Taigen Dan Leighton has moved to Chicago (and he has a new book out on Dogen and the Lotus Sutra).
---
As of the beginning of 2007, Taigen Dan Leighton has relocated full-time from the Bay Area to Chicago to lead the Ancient Dragon Zen Gate meditation and Dharma group, an affiliate of SFZC in Chicago, see their Ancient Dragon website. The group currently meets at the Cenacle Retreat Center in the Lincoln Park area in central Chicago (slightly north of the loop), with Monday night sittings and Dharma talks, and a regular schedule of seminars and one or three-day sesshins led by Taigen.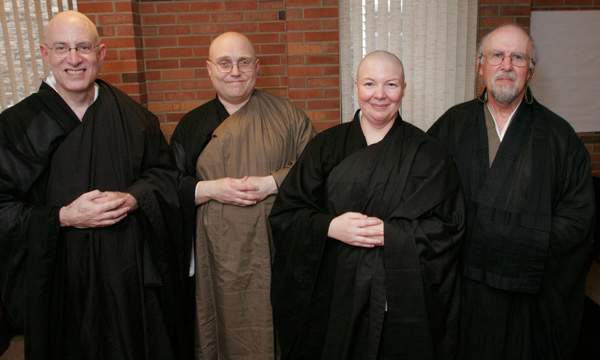 L to R: Roger Thomson, Taigen Dan Leighton, Laurie Belzer, Taiyo Lipscomb
The group has recently been granted full non-profit status as a 501C3, and as he settles in to Chicago living, Taigen with the Ancient Dragon Zen Gate Board and Practice Council is working towards making available a regular, full practice schedule. Taigen had been traveling to Chicago over the past few years to lead the group as it was forming. Last June two long-time students of Taigen, Roger Thomson and Laurie Belzer, had their heads shaved, and received full priest ordination and new Dharma names from Taigen. Roger's new name is Kotaku Myoshi, or Ancient Abundance Subtle Guidance. Laurie's new name is Hogetsu Kigen, or Jeweled Mirror Returning to the Source.
Taigen was assisted in conducting his first priest ordination by his Dharma brother from California, Taiyo Lipscomb. Taigen and Taiyo were priest ordained together in 1986 at San Francisco Zen Center by Senior Dharma Teacher Tenshin Reb Anderson, who was then performing his own first priest ordination. So Ancient Dragon Zen Gate now has three priests serving the sangha. Taigen had also performed lay ordination for six Chicago sangha members over the previous year and a half.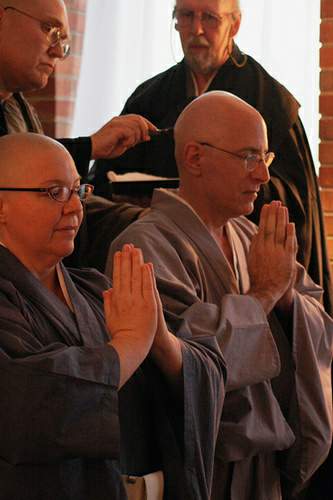 Zen Center friends are invited to stop in and practice with us when you are passing through Chicago. See the Ancient Dragon website for info. Taigen will be supplementing his sangha support starting in the fall with academic teaching at Loyola University in Chicago.
Since his relocation to Chicago in the beginning of the year, Taigen remains founding teacher and consultant to the Mountain Source Sangha meditation groups that he had established and led in the Bay Area over the past dozen years. But the Mountain Source Sangha groups are now being guided and well-led by SFZC priests Christina Lehnherr in San Rafael, Luminous Owl in Bolinas, and Rick Slone in San Francisco.
---
---
---