May 2012 Crestone Mt. Seat Ceremony for Dan Welch
and related happenings.

Note from DC - As of early 2014, Dan moved on and is no longer abbot of Crestone Mt. ZC. - dc
---
5-28-12 -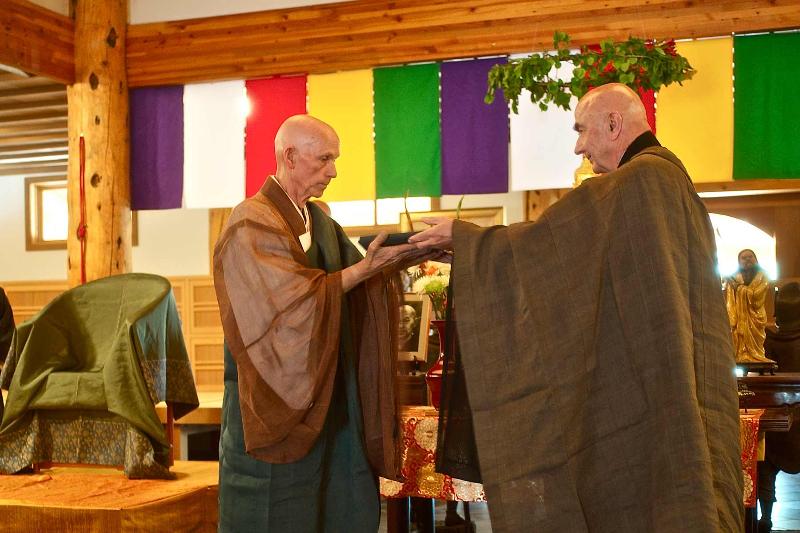 Zentatsu Baker Roshi passing the abbotship over to Koyo Welch Roshi at the Mountain Seat Ceremony
Mountain Seat CeremonyOn May 12, 2012, in a Mountain Seat Ceremony, Koyo Welch Roshi was formally appointed the New Abbot of Crestone Mountain Zen Center. One hundred thirty guests and students attended the ceremony and following reception. Zentatsu Baker Roshi will continue to teach Sesshins and Seminars in Crestone and Boulder. He now holds the position of Retired Abbot (Inkyo).
---
Peter Schneider comments on the ceremony.
---
Brief bio of Dan from the Dan Koyo Welch Roshi page from the Crestone Mountain Zen Center site.
Koyo Welch-roshi is Baker-roshi's Dharma heir and Crestone Mountain Zen Center's Assistant Abbot.
Koyo-roshi developed an interest in Zen Buddhism while in high school in Stockton, California in 1960. After a year of residential apprentice training at the Koko-an Zendo in Hawaii, he was accepted to practice as a layman at Ryutaku-ji in Japan under Soen Nakagawa-roshi from 1962 to 1964. From 1967 to 1972 he helped to open and develop Tassajara Zen Mountain Center.
In 1970 he received the Bodhisattva Vows and Precepts (priest ordination) from Shunryu Suzuki-roshi. In 1999 he assumed the responsibilities of Assistant Abbot at Crestone Mountain Zen Center.
---
5-16-12 - Steve Allen took this photo of the group that visited him and Angelique at Dragon Mt. Temple. See post on 5-14 below for more details on people and the visit.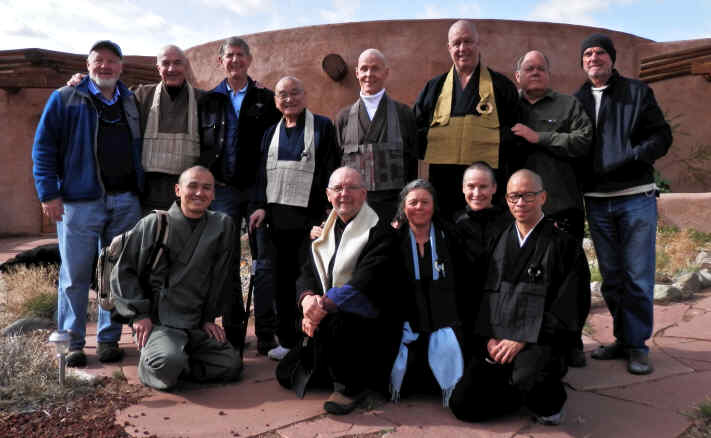 L to R top row: Martin Macaulay, Richard Baker, Peter Coyote, Hoistu Suzuki, Reb Anderson, Robby Pellett, David Chadwick, Paul Shippee.
L to R Bottom Row: Shungo Suzuki, Steve Allen, Angelique Farrow, Gaelyn Godwin, Damian Kwong.
---
5-15-12 - On the road back to San Rafael from Crestone Mt. Zen Center and Dan Welch's Mt. Seat Ceremony to become the new abbot. On the way out Katrinka and I visited with Paul Shippee in his wonderful active and passive solar straw bale pressed earth adobe home. Says he only used three wheelbarrow's of firewood last year at 9000 ft where it gets down to the minuses. I remember taking a bath there once and him telling me not to drain the tub till the water was cold - so the heat in the bath water wouldn't be lost. Met his house guest Barbara Yates. Check out her blog and beautiful wood Buddhist and other sculpture. Then look at her wooden books. She said she published an interview with Suzuki student and potter/artists Mary Quagliata a few years back in Ceramics Magazine. Don't have time to look for it. If anyone finds it please send me he link. (My interview with Mary is one of many tasks in the backlog I'm dying to get up on cuke) Paul told the story of his recent heart attack which I asked him to write up for his section here on cuke and he and Barbara and I discovered we'd each gotten stents - in Decembers. Saying goodbye we saw we also were driving red cars.
Katrinka and I are in Ely, Nevada, (pronounced like feel-y) on 50, in these parts called "the loneliest road in America." - dc
---
5-14-12 - On the road back to San Rafael from Crestone Mt. Zen Center. Dan Welch is now the abbot. Maybe we can get a guest list. Hesitate to mention who was there because of the omissions I'd make.
Sunday morning some of us went to Dragon Mt. Temple. Abbot Steve Allen and his wife Angelique greeted Hoistu Suzuki (Shunryu's son and heir to his temple Rinsoin in Yaizu, Japan), Hoitu's son, temple priest Shungo, Richard Baker (who'd just passed on his abbotship to Dan Welch), Reb Anderson of Green Gulch farm, Gaelyn Godwin (newly crowned abbot of Houston ZC where she's been teaching for years), Damian (sp?) Kwong (son and dharma heir of Bill Kwong of Sonoma Zen Mt. Center), Peter Coyote (priest ordained by Lew Richmond of Vimila Sangha. Paul Shippee (Suzuki and Trungpa student who lives in Crestone), Robby Pellett (Hoitsu's disciple, therapist, Zen and Aikido teacher in Seattle), Martin Martin Macaulay (our Brit Zennie photographer friend), a Hungarian Zen student named Katalin (sp?), and me DC. Most of these folks were on their way to the Alamosa airport with little time to spare. Incense was offered at two altars. Warm feeling, a little talk. Like the Mountain Seat Ceremony that had been the day before, for our lineage it was a significant and harmonious event.
This morning at Main Street Bagels in Grand Junction - they offer Tassajara Bread. They make it here. Wonder what recipes they use. As I recall, the Tassajara Bakery on Cole Street in SF never used a recipe from the Tassajara Bread Book. - dc
---
5-12-12 - Today Richard Baker steps down as abbot of Crestone Mt. Zen Center and Dan Welch steps up as the new abbot. So many old friends are here for this event. Katrinka and I arrived in her Honda Fit after over 2000 miles of driving in time for the informal tea yesterday afternoon and joined in on the buffet dinner at the Sagebrush.
Tomorrow more visiting with old friends and new. Will post something again before we head back Monday morning. - dc
---
5-17-12 - Here's a photo Steve Allen took of Katrinka and me standing outside the zendo before or after the ceremony. - dc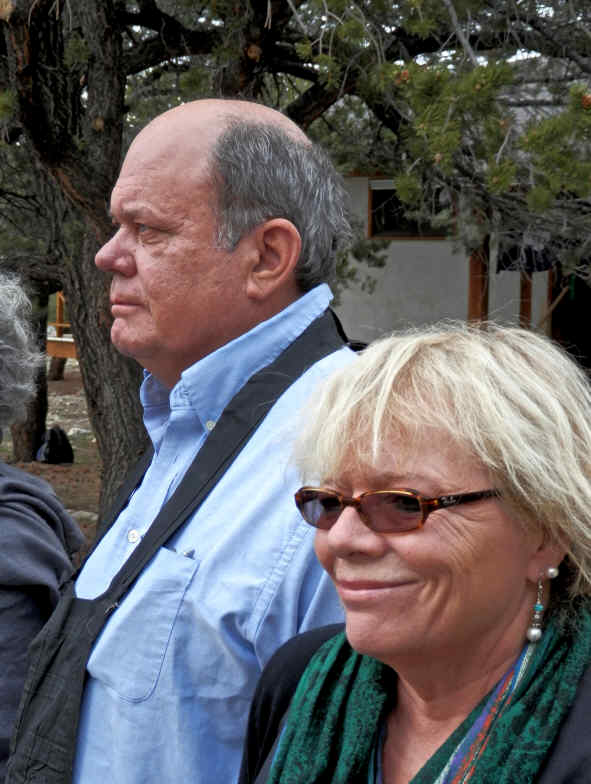 ---
6-18-12 - Peter Schneider comments on the ceremony.
Richard Baker and I were friends for some years when Dan Welch and I met in the first spring of Tassajara. Dick had introduced me to Suzuki Roshi. Dan and I climbed Flag Rock together within our first month there. I remember him going back down leaping from rock to rock holding a bunch of flowers. We even bought some tools to make a trail for the hill across the creek from the kitchen, though we only did about ten yards. And the three of us meditated and worked together. Dick was shuso (senior monk), Tassajara director, and Zen Center president, and I helped him put out Windbells. Three years later Dan and I were ordained together by Suzuki-roshi. A year and a half after that Dick became abbot of San Francisco Zen Center, and I became his jisha (assistant).
In the same month, forty-five years later, many of us old friends from those first years, my wife Jane and I, Paul Discoe and David Chadwick, Reb Anderson and Paul Shippee, Pam and Mike Dixon, and Debbie Madison, as well as Suzuki -roshi's son, Hoitsu Suzuki Roshi, and his son, Shungo, San Francisco Zen Center Central Abbot Steve Stucky and President Robert Thomas, and Marie Louise Baker, Ginny Baker and her daughter Elizabeth, among so many others, were at Dan's Mountain Seat Ceremony at Richard's Crestone Mountain Zen Center watching Dick and Dan, friends together, one of them passing all that he had to the other.
The ceremony was simple and complete. Many persons gave congratulations, and when my name was called, I started to speak but found myself saying only, "I'm with you, Dan." Sangha is family. I owe a lot to Dick, and Dan has taken care of Dick for me. I owe a lot to Dan, and Dick has taken care of Dan for me. Dick has been kind to Dan; Dan has been kind to Dick. So it is with everyone. Zen is forgiving about us being ourselves.
---
More photos taken at Crestone Mt. ZC during the time of Dan Welch's installation as abbot
Bill Ellzey, our famous Crestone photographer, probably took all these, but Martin McCauley also took some there so not sure. - dc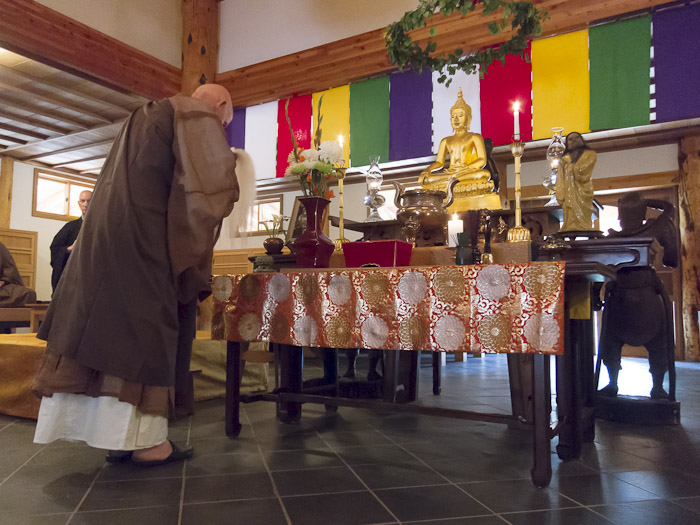 ---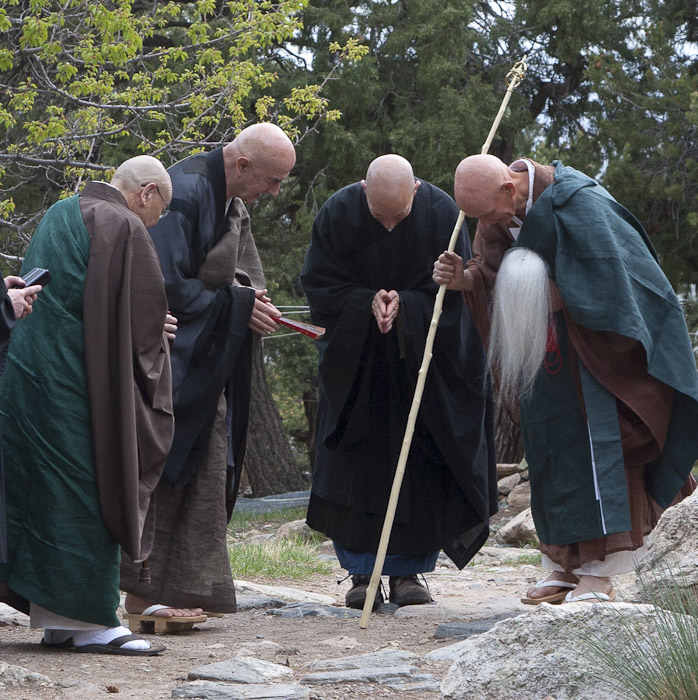 ---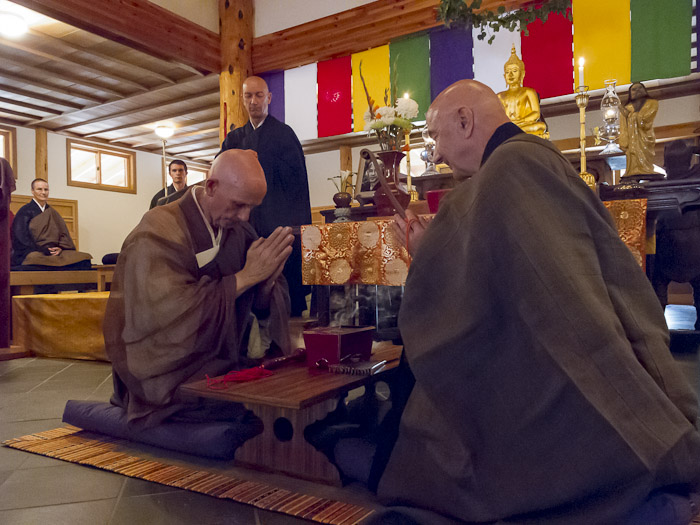 ---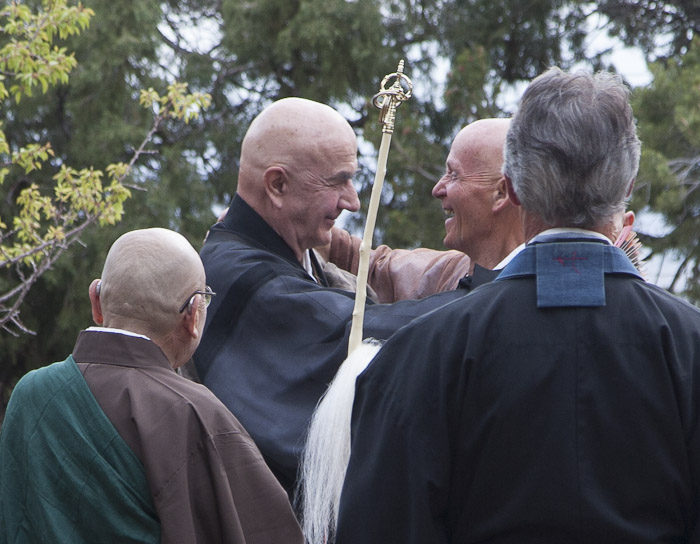 ---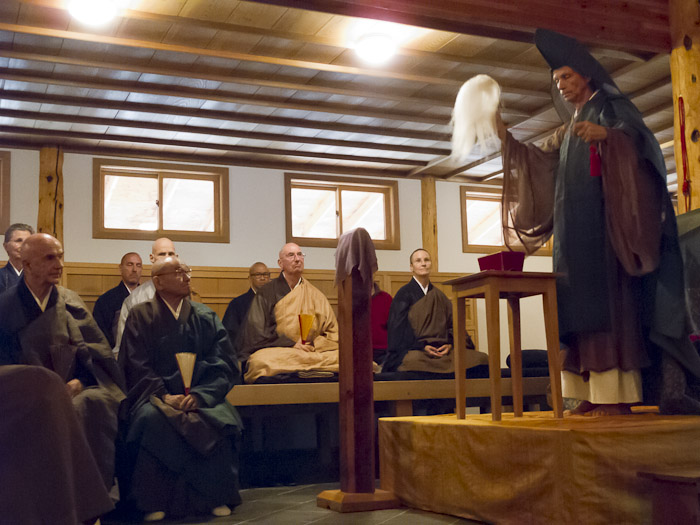 ---
---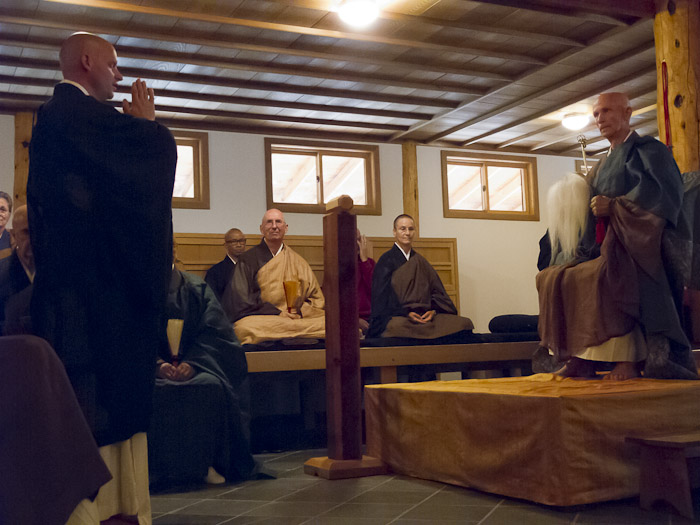 ---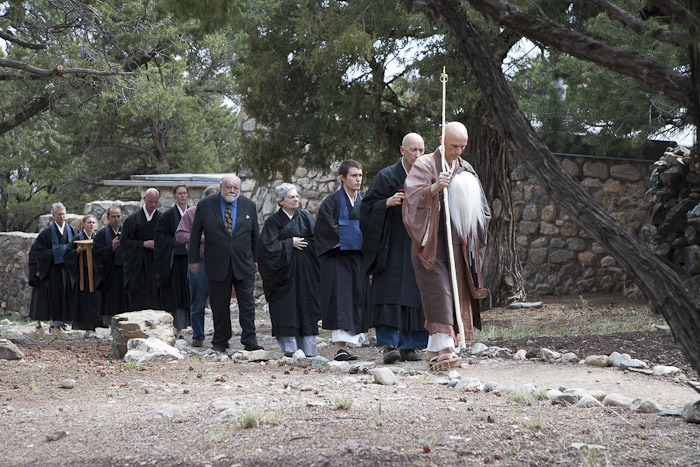 ---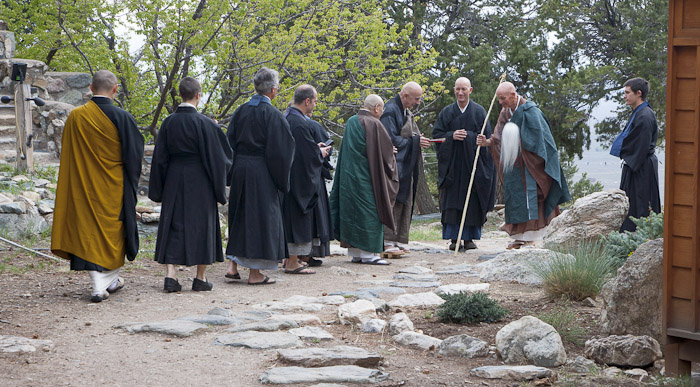 ---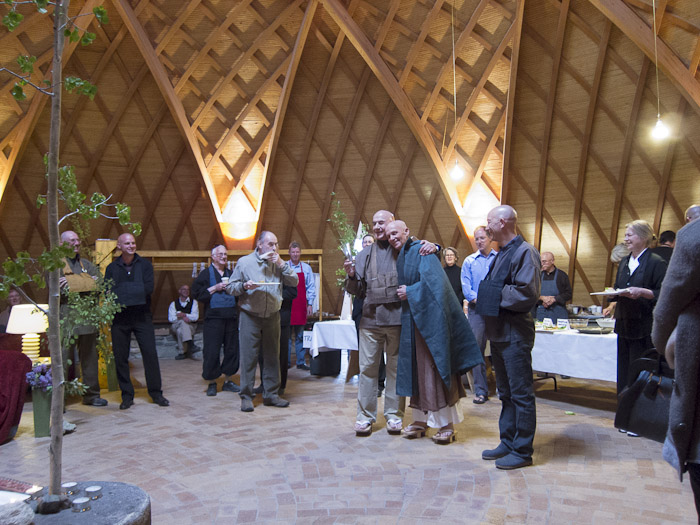 ---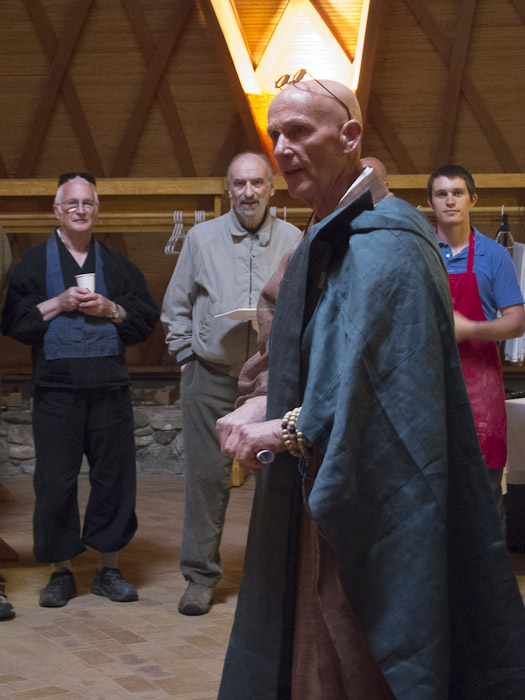 ---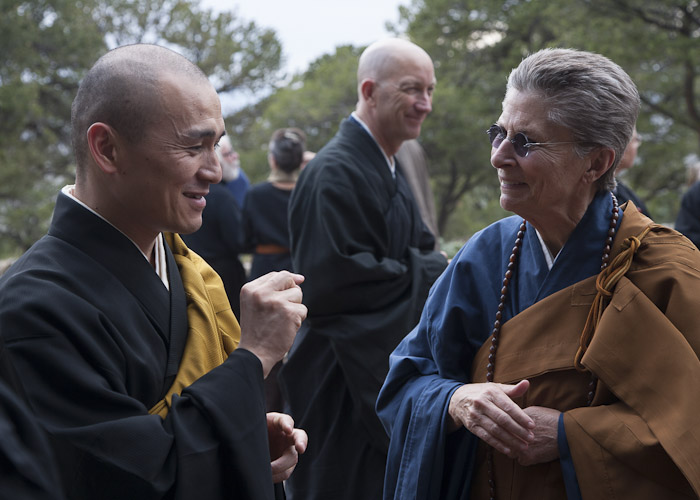 ---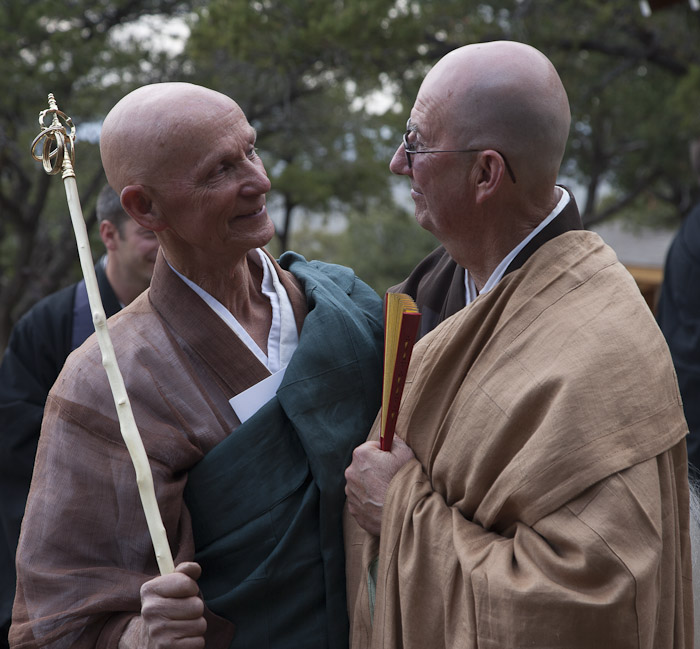 Steve Stucky with Dan Welch
---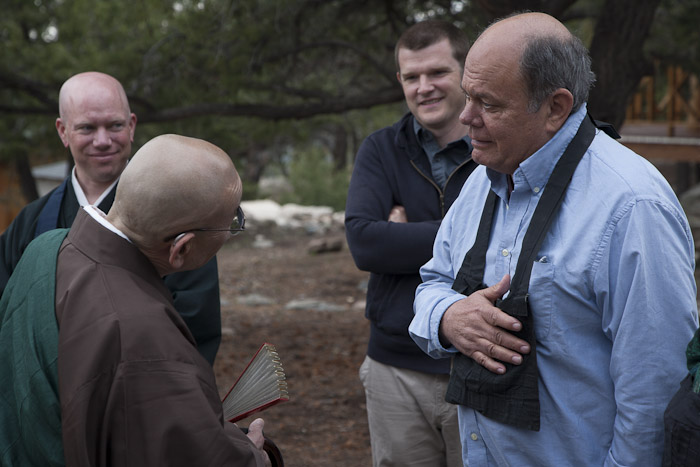 ---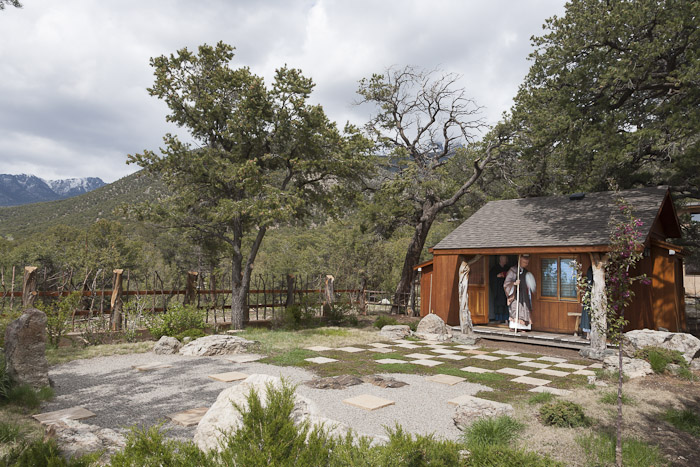 ---