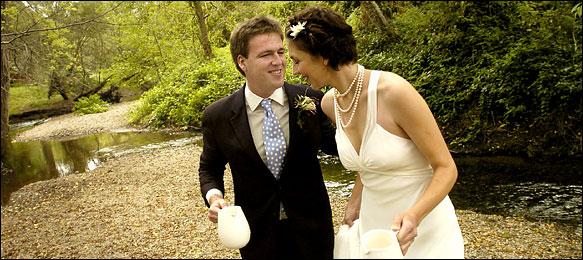 Jason Kibbey and Elizabeth Baker
By CAROL POGASH
Published: July 31, 2005
New York Times
---
HIS first letter began: "Dear Liz, You probably don't remember on the bus when our conversation turned to stationery and I said I would write you a letter. ..."
With that Jason Kibbey and Elizabeth Baker, both then 16 and classmates at the Urban School of San Francisco, began a nine-year exchange of letters written on elegant stationery.

A written reply from Ms. Baker, who sat by Mr. Kibbey on a school ski trip, arrived six days later: "Dear Jason, I did remember our stationery conversation on the bus and I loved getting your letter."

Three months later, on personalized stationery given to him by his grandmother, Madelyn Jason (a San Francisco horse breeder), he wrote: "I cannot hold this in any longer. I like you, Liz."

Her starchy response on a note card decorated with a Monet painting was less than he had hoped for: "I am entirely flattered by what you said in your last letter, and I think you are a wonderful person. I love spending time with you too, but as friends."

Mr. Kibbey, who is now 27 and has an all-American-boy look and an overhang of brown hair, recalled deciding on being patient - very patient.

But as their junior year progressed, he remembered, he became increasingly captivated by his taller pen pal. He liked her porcelain skin and peaked brows, and that she, unlike other tall girls he knew, "was confident and had a remarkable exuberance."

On his personalized stationery, Mr. Kibbey wrote: "I think I'd rather talk with you than almost anybody. It's odd that we don't talk at school."

In fact, Mr. Kibbey, now the director of Defense of Place, a land preservation project of the Resource Renewal Institute in San Francisco, remembered that while their letters became increasingly intimate during their junior year, he and Ms. Baker, who said they felt shy and awkward in person, shared no more than perfunctory salutations. "We would say hello to each other and maybe briefly chat," he said. "But we didn't talk like friends."

That summer he took her to a charity ball, and soon their relationship became more than words on paper. Mr. Kibbey went from professing "like" in his letters to professing "love." He wrote: "You're still all I think about."

In their senior year, Mr. Kibbey, who had become student body president, found a way to signal his continuing interest, and not just to Ms. Baker. That's when "the roses began arriving in my mailbox," said Ms. Baker, now also 27 and a hostess at Chez Panisse, the Berkeley restaurant. Tiny bouquets of yellow buds were squished into her little school mail slot, which was visible to all. "I was thrilled," she recalled, "and totally mortified." She turned the bouquets around so the stems faced out, hoping her classmates and teachers wouldn't notice.

By the end of that year, Ms. Baker wrote on handmade cream-colored stationery: "Saying love doesn't make it clear. I think it is a physical feeling of my chest about to collapse." She added, "It is the tingle of your sweet hand on my bare waist."

Back then, she said, "We both knew we could be married and live together forever." Although both were young, Mr. Kibbey, who comes from a traditional and prosperous family, had no reservations about a long-term romance. Whereas Ms. Baker, whose family, she said, "took a lot of explaining," was determined never to marry.

Her father, Richard Baker, a Buddhist teacher and Zen master, helped start such Bay Area institutions as the San Francisco Zen Center, Green's Restaurant and Tassajara, a Zen retreat. Her parents' marriage broke up when she was 5. After that, Ms. Baker lived in San Rafael, Calif., with her mother, Virginia Baker; her older sister, Sally; and various other "unrelated family members" that she said included a Zen tea master and a runaway.

So Ms. Baker said she "banished the thought" of marrying Mr. Kibbey.

After high school graduation, the singer Linda Ronstadt, her mother's close friend, gave young Ms. Baker some advice. "I said, 'Let me speak from experience,' " Ms. Ronstadt recalled. " 'There are a lot of apparent choices in the world and not many are real ones. You bring a guy home and he's a goat or a camel and he speaks no human language. You probably will meet other boys, but I doubt you will meet his equal or nicer.' "

After Ms. Baker and Mr. Kibbey left for college, she in Massachusetts and he in Berkeley, they communicated by e-mail with everyone else, but still wrote on paper to each other.

Then, ignoring Ms. Ronstadt's advice, Ms. Baker wrote to Mr. Kibbey in May 1997 that although she found him to be "so honorable" and loved him, "for both our sakes, I want to tell you, I've met someone."

On a short, narrow sheet of decorated paper, Mr. Kibbey replied, "I probably won't be writing/e-mailing/calling for awhile."

He concluded that she was "a lost cause," he said, and tried to move on. But in March 2001, when Ms. Baker was teaching English in Japan, Mr. Kibbey visited her in Kyoto - despite the fact that she was still seeing "the other guy." They stayed together in a Japanese inn, and while the atmosphere was "charged," they said, "nothing really happened." Afterward, he sent a postcard that said, "I am in love with" - and here she was sure he'd confess his love - but instead he wrote, "Kyoto."

But once home, he said, "I started totally thinking I wanted to be back together with her." With that he launched "Project Elizabeth," which included notes, postcards and long phone conversations.

On her return in October 2001, the two walked across San Francisco together and agreed to resume dating. She also left her other boyfriend. He gave her an ultimatum: their friendship could not endure unless she committed to him. And so she did.

They were married on July 9 outside the Point Reyes Seashore Lodge in rural Olema, Calif. They recited their vows before the Rev. Paul Lee, a Lutheran minister, under a canopy of elm and willow trees, while a Swainson's thrush volunteered a melody. The ceremony included Sufi and Tibetan blessings, the latter given by Ms. Baker's father. Afterward guests offered an only-in-Northern-California serenade of whistles, kazoos and Tibetan bells.

Among their guests were Ms. Ronstadt; Mayor Jerry Brown of Oakland; Chris Matthews, the cable TV anchor; and various other friends and David Harris, the writer and former husband of Joan Baez who went to prison rather than serve in the Vietnam War. "Where else would you have an ex-con hanging out with the polo crowd and everyone enjoying it?" Mr. Davis said.

Before the wedding, Bradley Wollack, a friend, spoke about the couple's romance, with each other and the written word - a nearly lost centuries-old tradition. "They're almost old souls," he said. "They live with their own rules and connections."