3-31-05 - Memorial for Mike Wynne - another note and photo from Gene deSmidt.
A memorial service for Mike Wynne, who passed away peacefully on March 19th 2005, was held at Tassajara Zen Monastery on Monday, March 28, 2005 at 6 pm in the Zendo.
Abbot Sojun Mel Weitsman led the ceremony. The sixty practicing students along with Mikes' friends Gene DeSmidt, John DeSmidt, June Johnson and Dirk Isles chanted the Dai Hi Shin Dharani. After incense lighting and full prostrate bowing, people spoke up about Mikes' life and the many woodworking projects he had performed at Tassajara including the beautiful crowning ridge cap on the Kisando that Mike and Gene installed last year.
After the formal ceremony, Gene was heard screaming at the mountain behind the Zendo in honor of Mike.
We love and miss Mike Wynne.
Gene deSmidt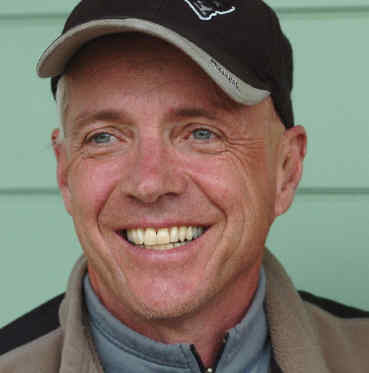 3-20-05 It is with great sadness that I report that Michael Wynne died last night. Here is a photo of him and Wendy taken by Gene DeSmidt and a note from Gene. - DC
To All
My dear friend and co-worker, Mike Wynne, passed away peacefully in the loving arms of his wife Wendy and his family at 5:25 PM on Saturday, March 19th in his home in Petalauma.
He finally succumbed to brain cancer without pain and suffering.
I am very sad right now!
Gene [de Smidt]