Paul Lee Introduces Alan Chadwick to Baker Roshi
from Alan Chadwick, a Gardener of Souls
Paul Lee page - Richard Baker page
---
Paul Lee played a key role in relation to the work of Alan Chadwick at UC Santa Cruz and also later at Green Gulch. Paul had shared an office with poet Donald Nicholl at UCSC, and the idea of a student garden somehow germinated out of interactions with him. Paul then took the initiative and received a positive response when he pitched the idea to the Chancellor. The two of them, Paul and the Chancellor, along with a cadre of forty or fifty others, spent an afternoon tromping around the campus looking for a likely site. Chadwick showed up within a few weeks, and after that Alan became the driving force for the garden.
Paul stayed involved, providing logistical and moral support. He was a frequent visitor to the garden who could often be seen on the chalet deck at lunch or at afternoon tea times, when he and Alan would often verbally spar with each other. Paul was himself not a gardener, but had a pronounced knack for schmoozing with important people and making connections that would prove useful in the long term.
In the following excerpts from Paul's website, Ecotopia.com, we learn of his friendship with Richard Baker, later Roshi of the San Francisco Zen Center. It was out of this connection that Alan was invited to start the agricultural project at Green Gulch in 1972 after he was forced out of the University by the misguided political intrigues of a former apprentice.
Paul had done his PhD work in Philosophy and Religious Studies at Harvard University under the famous Paul Tillich and Erik Erikson. He was also involved with Timothy Leary and the early experiments with LSD at Harvard. In an essay entitled, "Oceans of Desire," Paul describes his adventures in the budding drug scene of the early 1960's which reads like a who's-who of the hippy counter-cultural elite. For more, see: www.ecotopia.com/oceans-of-desire. The following are a few excerpts: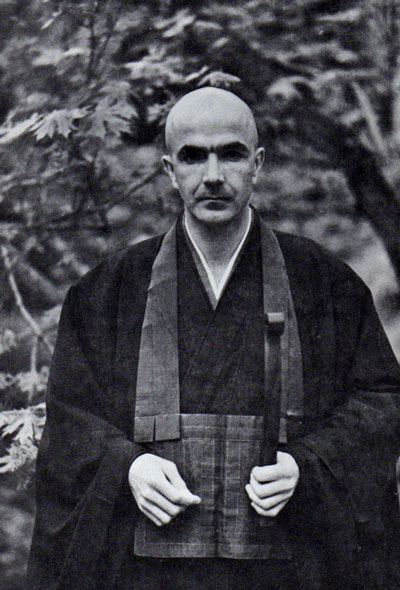 "Richard Baker, the eventual Zentatsu Myoyu and Zen Roshi, called, looking for Tillich and Erikson to invite to a conference he was organizing at Asilomar. I had been Tillich's Teaching Assistant and Erikson was my thesis advisor. They weren't available so I offered myself and he bought it, including my wife, so we flew out and got a look at Santa Cruz before moving there.
. . . We met the Bakers at Asilomar and over drinks found out they were practicing Zen Buddhists. I didn't know any up to then, although I had attended a seminar given by Tillich and Hisamatsu, at Harvard. Hisamatsu, a famous Zen Master, was in residence at Harvard. I hardly understood a word, but he was interesting to observe and made a pronounced impression. I was intrigued by the challenge of an American, like Baker, taking on an Asian religion–an experiment in the cross-fertilization of cultures, or mind and migration, the title of an essay Tillich had written about the affinity of the mind for the migratory impulse. Here was a living instance, my new-found friends. I decided to appoint myself as Baker's protestant theological witness.
. . . As I was a member of the Leary Group at Harvard and a founding editor of the Psychedelic Review, I told Baker, who was organizing conferences and symposia for the University Extension, he should do one on LSD, as it was going to become a big deal. He did. Berkeley tried to cancel it after they woke up to the hot potato and Baker had to compromise by moving the venue to the San Francisco campus and disinviting Allen Ginsberg, who showed up anyhow but did not appear on the program.
. . . We started making pilgrimages to San Francisco at least once a month to visit the Bakers and catch the action. Quicksilver Messenger Service was my favorite group. The first Be-in took place. Leary was there, the guest of honor, and so was Suzuki-roshi. We had a picnic on the grass and everyone was mellow on grass. The tribe had gathered . . .
. . . I have had a few clairvoyant experiences in my life but this was one of the best. Maybe clairvoyant isn't the word. It was more like being guided. I thought a student garden project would be a good thing for the campus, even though I wasn't interested in gardening and didn't know where the idea came from, although, after all, the campus was on a splendid ranch landscape; the weather was perfect, and "Flower Power" was in the air, another slogan of the times, wafting down on a cloud of smoke from the Haight. We all got a whiff of that. So I asked the Chancellor to lead a walk to look for a prospective site. He thought it was a good idea. Quite a few people showed up and I carried my daughter on my shoulders and we looked around up behind Crown where there were running streams and gorgeous stands of redwoods, eucalyptus and oak.
Two weeks later, Chadwick arrived. I was alerted to his coming by Countess Freya von Moltke, who was visiting the campus and had heard of my project. She said she had my gardener for me. I met Chadwick at the Cowell Fountain and asked him if he would take on the task and he said he would. The next day he went out and bought a spade and picked out the slope below Merrill College and started to dig. I remember driving up to school and catching him out of the corner of my eye and thinking oh boy here we go! I think it was the first organic garden at a university in the country. The year was l967."
* * *
In a recent email exchange with us, Paul added a few details about his friendship with both Chadwick and Richard Baker, including mention of the eventual dissolution of their working relationship:
"[Baker] taught me how to sit and I took up an interest [in Zen] but not very avid. I had taken a course from Hisamatsu at Harvard which had an impact, and Tillich had made a trip to Japan and that interested me in terms of his impressions. Baker was a powerhouse and had an entourage around him that was terrific as though all the bright guys in the Bay Area converged on the Zen Center.
It finally occurred to me after two years that Alan should take a weekend off so I took him to Tassajara and that began the relation. I must have asked Baker to take him on when the University period ended and he agreed, much to his eventual regret. Baker was in California when he called and bent my ear for an hour about having to kick Alan out of Green Gulch. I didn't speak to Richard for a year."
* * *
And a bit from Paul's "Memoir"
"I thought of the words of Schelling and the vision of the Apostle Paul when I got the word of Chadwick's death. I was on the phone with Baker-roshi, my Zen priest friend and Abbott of Zen Center, who had taken Alan in to care for him after Alan had become ill with cancer, and he told me Alan had died. I put the phone down and was swept out of my home on a rush of mourning, a trajectory of some irresistible force that shot through me, as I burst out of the front door and into the front yard, where an invisible sky-hook came down and picked me up into the air for one enormous somersault of death, and then let me down again. In this burst of grief, this paroxysm of nature, I knew what nature had lost."
* * *
A brief biography of Paul Lee:
Paul Lee was educated at St. Olaf College, where he studied philosophy with Howard Hong. He attended Luther Theological Seminary and the University of Minnesota and received his divinity degree (S.T.B.) and PhD from Harvard. He taught at Harvard in the humanities program and was Paul Tillich's Teaching Assistant (1960–62). He has taught at MIT, UCSC, and as guest lecturer at a number of colleges and universities. He was denied tenure at UCSC, for not publishing, when Page Smith, who came to his defense, resigned in protest. They formed the William James Association, a nonprofit corporation, in Santa Cruz, in 1972, devoted to voluntary work service as a moral equivalent of war. Page Smith died in 1995.
The above photos (top) Paul Lee carrying his daughter on the walk they took with the Chancellor in search of an appropriate site for the new student garden project at UCSC in 1967. Photo from Paul's book, "There is a Garden in the Mind: Alan Chadwick and the Origins of the Organic Movement in California", North Atlantic Books. 2013
(Below:) a photo of Richard Baker Roshi, abbot of the San Francisco Zen Center from 1971 to 1983.