Click here for Shunryu Suzuki Photo Archive images and links to all cuke.com pages on .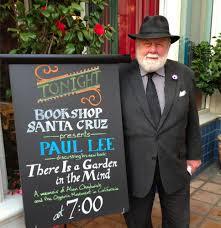 Paul Lee's impressive Ecotopia website with the following intro:




Paul Lee's letter of 2000 to Cuke Archives about Shunryu Suzuki (below)

---
Paul Lee quote in the Zen in America brochure sent out in 1967 to raise money toward the purchase of Tassajara. He and his wife were among the donors.



---
From Liz Wolf: I first met Suzuki Roshi in May of 1967. I was a student at UC Santa Cruz. I don't know how I knew, but Paul Lee, a philosophy professor and friend of Dick Baker, had arranged for Suzuki Roshi to come down and speak. I went to this lecture somewhere on campus and then asked Roshi if he would mediate with us. He did.
---

Paul Lee was a champion of Alan Chadwick, the great gardener who got the Green Gulch gardens going back in the early seventies. I remember Paul bringing Alan to Tassajara early in 1967. - DC

Paul Lee Introduces Alan Chadwick to Baker Roshi - from Alan Chadwick, a Gardener of Souls (also here on cuke)
---

Paul Lee help put together Roundabout Zen [table of contents link], wrote the preface and a piece inside, Not a Drop Remains.



Roundabout Zen: Recollections in Celebration of the 70th Birthday of Zentatsu Baker Roshi
click thumbnail to see front and back cover art (by Edward Avedisian)
---
Paul performed the wedding ceremony of Elizabeth Baker and Jason Kibbey - from the NYTimes article:

They were married on July 9 outside the Point Reyes Seashore Lodge in rural Olema, Calif. They recited their vows before the Rev. Paul Lee, a Lutheran minister, under a canopy of elm and willow trees, while a Swainson's thrush volunteered a melody. The ceremony included Sufi and Tibetan blessings, the latter given by Ms. Baker's father. Afterward guests offered an only-in-Northern-California serenade of whistles, kazoos and Tibetan bells.
---

from Rick Wicks -this is 1974 - During Christmas vacation I saw Baker-roshi outside City Center looking for a couple of students who wanted to make some money working for a few weeks in Paul Lee's new restaurant (the Wild Thyme?) in Santa Cruz. I and another fellow went down there, staying at the Santa Cruz zendo where people were very nice. Paul wanted us to add some "Zen class" to the place; I mostly washed dishes.

---

Paul Lee's letter of 2000 to Cuke Archives about Shunryu Suzuki

Original of Paul Lee letter

I must have met Suzuki-roshi around 1966-7, through my friendship with Richard Baker who became my first friend when I moved to California to teach at the U. of California Santa Cruz, and who prompted me to think of myself as the protestant theological witness to his Buddhist career as the American who received the transmission of the Zen Buddhist lineage from Suzuki-roshi. This astonished me as a unique example of the cross-fertilization of culture and the phenomena of mind and migration.

I especially remember with great fondness and appreciation the visit of Richard and Roshi who came to stay overnight at our house and slept on our pullout daybed in our sun room. I remember peeking through the window after they had retired and observing with delight how cozy they looked. In the morning when I awoke, I found them saying prayers before my bronze Siamese Walking Buddha, which I had bought at auction, at Louis Joseph, a famous gallery in Boston, one of our family treasures, as though consecrating it for me.

I have a strong memory of Roshi sitting on a step at Tassajara and just being there in the fullness of his presence. He was always in jolly good spirits and irrepressible good humour although the sober seriousness of his nature was always evident amidst the sunny disposition. His sitting there is associated with his stone work which he loved to do and I must have seen him working on the paths at one time or another.

He was a man of great strength, forceful, yet gentle and unassuming, utterly at ease.

I last saw him when my wife and I, and Earl McGrath, were Richard's guests at his High Mountain Throne of the Buddhist Ceremony [mt. seat ceremony], when he manifested the transmission he had received and was to assume the position of abbot of Zen Center. We all sucked in our breath when Suzuki-roshi entered the room, borne up by his son, with a burden more than anyone could bear, as he was dying of cancer. His pallor was greenish-yellow and filled the room as a sign of his imminent death. We thought he would die when Richard offered incense to him and said:

Walking in Buddha's gentle rain
Our robes are soaked through
But on the lotus
Not a Drop remains.

Paul Lee
Jan. 14, 2000