---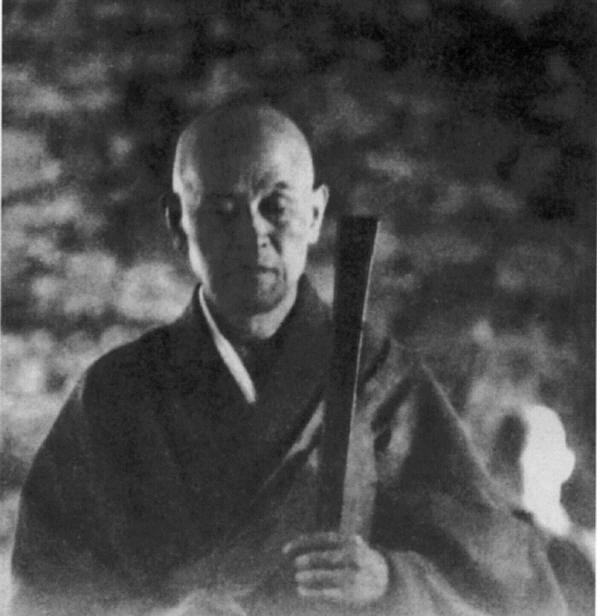 Brief Memories
of Shunryu Suzuki, Zen Center back then, etc.
---
Interviews Suzuki Basic Info Suzuki Stories Brief Memories home
photo by Donn Deangelo
---
Donny and the Birthday Photo
---
At the May 2004 Shunryu Suzuki 100th birthday bash evening gathering in the zendo at Green Gulch Farm, Donny Deangelo (Crockin) told the following story. Unfortunately the tape had run out so that it wasn't recorded. I've talked to him about it several times since then and now finally, after a few phone calls and emails back and forth, we present it here. Thanks Donny. - DC
---
Tassajara's 1969 fall practice period was almost over. It was early in the morning of the first day of the seven day sesshin, the December Rohatsu. Jean Ross, the head monk, sat with Suzuki on the raised platform at one end of the zendo. Dan Welch was up there too as he rang the bell to begin and end the periods of zazen. Suzuki Roshi was walking quietly around the zendo with his nioi, the short stick, adjusting postures and sometimes whacking a nodding student on the shoulders. He tapped Donny on the shoulder. Donny assumed it was because he was going to get hit for daydreaming, but was surprised when Suzuki indicated he wanted to talk. Once outside Suzuki asked Donny if he could take a picture of him in the zendo. Donny said he thought there wasn't enough light yet and he didn't know if he had any film left, but Suzuki urged him to go get his camera anyway. This was so uncharacteristic of Suzuki - to do something like this during zazen, especially during sesshin, to ask to have a photo of himself taken at all. Donny asked what's it for and Suzuki answered, "It's for my birthday."
Donny returned with the camera . There was one shot left in it. Suzuki was in the aisle with his nioi in hand, walking slowly, looking down at the students. It still seemed too dark. "As I stood there with one shot in my camera," Donny wrote, "the first ray of light shone right on Roshi through the window. You would have had to been there." Donny took the picture.
"We never spoke about it again after the photo was shot - ever. As far as I know Roshi never saw the photo," Donny says. "I didn't print it for another couple months - when I got to a darkroom in San Francisco on a visit and then I just handed it off to Yvonne or someone and kept a copy for my altar." And he forgot about it.
Early in 2004, Donny received an invitation from the Zen Center for a celebration of Suzuki Roshi's 100th birthday to be held over the weekend of the May 21-23rd. His son Hoitsu was coming from Japan as would Zen Center alumni from far and wide. There would be displays of memorabilia, meals, and events at the City Center, Sokoji, and Green Gulch. What really caught Donny's eye though was the photo on the front of the invitation, a photo of Suzuki Roshi. He recognized it as the one he had taken at Tassajara in the zendo thirty-five years earlier, the one that was "for my birthday."
I told Donny that to me this was a strange thing for Suzuki to say, because in my experience, Japanese don't and Suzuki nor his wife never did, make a big deal out of birthdays. That's our trip, an American thing. I asked Donny how he reacted to seeing that photo on the cover of the invitation.
"You know, I wasn't all that surprised when I saw it. I think intuitively I always knew it would be used for something like that, but it did definitely bring a tear to my eye."
---

click on photo to see larger image
That's Dan Welch in the background.
---
9-24-14 -
Donn's Montage of this photo with the Heart Sutra
---
See the announcement of Suzuki's 100th birthday bash on cuke.com.
---