---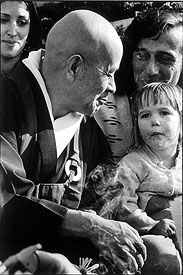 Brief Memories
of Shunryu Suzuki, Zen Center back then, etc.

Interviews
Suzuki Basic Info
Suzuki Stories
Brief Memories

photo by Lisa Law

Kobun Chino Roshi
---
Oh David, all that we've experienced together, all the people at Zen Center and Sokoji and Tassajara and Los Altos and Taos, and Suzuki Roshi brought us all together. What a wonderful time. All those who lived with him everyday, from different backgrounds and traditions and intelligence and how reality fits in played a big part in who Suzuki Roshi was - I understand that. And we all love him still. And Rinsoin - SR was guiding young people to sit there long ago. Kishizawa is very important - he was Kishizawa Roshi's student. Today many people don't know who Kichizawa is but he was a very very important person - Hashimoto, Kodo Sawaki, Suzuki - all those people studied with Kishizawa.
DC: I took those notes down ten years ago or so from a few things Kobun said to me – I don't remember the setting - and I modify them a bit now remembering back.
I remember when Yasutani and Soen Nakagawa were visiting Tassajara in 1968 [see excerpt from Crooked Cucumber] Kobun said to me that Yasutani, even though he was Soto, was a good example of a great Rinzai Roshi and Suzuki of a great Soto Roshi. I asked what about Soen and he said, "Too much personality."
Kobun and Vanya Palmers and I were at October Fest in Germany in 1999 and, after spending a couple of hours visiting with Vanya's brother's party in the wine tent where Kobun danced on a table with a fetching lass, the three of us went off and rode the three looped roller coaster.
I remember then Kobun telling me he wouldn't let me interview him because, he said laughing, "You're not going to put me on the Internet. No way!"
Here Kobun – I've got the last laugh.
More about Kobun Chino on the Internet and cuke.
mem
---