---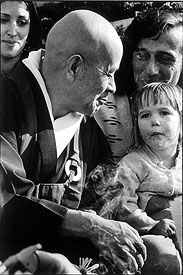 Brief Memories
of Shunryu Suzuki, Zen Center back then, etc.

Interviews
Suzuki Basic Info
Suzuki Stories
Brief Memories

photo by Lisa Law

Les Kaye in cuke and elsewhere

From Les Kay of Kannon Do
---
Les told me this story in October of 1994 and then wrote me about it in March of 2011.
See excerpt from Crooked Cucumber about this event with a note about how I mistakenly attributed the question to myself, DC, in the book,
More about and from Les on cuke
---
Les was at Tassajara for a week with his wife and children. He was asked if his car could be used to go pick up some Japanese priests because there were more people coming in than their best vehicle could carry. He recalls:
I remember when all those great Zen teachers were at Tassajara, Dick Baker saying now's a great opportunity to ask some of these great teachers a question and I asked:
"What's the best way to establish Buddhism in America?" So they spoke amongst themselves and agreed that each one wanted to answer it and I remember Yasutani speaking in Japanese and being translated and I remember Edo getting up and being very dramatic and Soen too and Maezumi I remember Suzuki Roshi getting up and saying, "I have nothing to say," and we all roared and it was over. He went out the side door.
---