---
---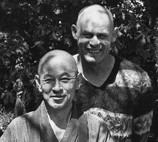 1-08-08 - On Phillip Wilson
---
I was in Scotland when I learned that Phillip Wilson had died in July. It was September. Jeanie Stearns told me in an email responding to the Early Tassajara Alumni Reunion. See top of list of cuke entries below.
[I'll have this finished in a while. Gotta take a nap. Next morning. Stacked a bunch of firewood, mostly out of the rain. Wrote the comment on comment in letter to Jeanie Stearns - it's down below - you'll get to it. Back to this.]
Using Skype from Scotland (where I was visiting my partner Katrinka who was interim manager of a hotel over there for some months), I talked to JJ Wilson and some folks at the ZC, Mel, Steve Stucky, Michael Wenger and learned that Reverend Master Eko at Shasta Abbey had called Mel and told him. There had been services for Phillip at Shasta Abby, the Berkeley Zen Center, and Steve Allen had done one in Crestone.
I forget about the Shasta Abbey connection. After Suzuki died, or maybe even starting before, Phillip developed a relationship with Reverend Master Jiyu-Kennett. I remember him telling me about her and how helpful and kind she was to him, with him, and how tough she was too. She was strict. I got the impression she knew how to handle Phillip.
JJ said that the coroner reported that Phillip had died of cancer of the liver which was weird to hear because he'd died unexpectedly in his apartment. The landlord had gotten suspicious and gone in his place and found him dead. He was in his seventies.
The authorities had located JJ, whom he'd been divorced from for years, and had asked if Phillip had any surviving relatives and she said that he'd had a daughter but that she had died. JJ was impressed that they didn't take her word for it and somehow found the daughter. As I remember it, JJ said she was living in a trailer - I get the image of some place in the desert east of LA. Years before, her mother (whom I know nothing about) had told Phillip that his daughter was dead so he would leave her alone. But she wasn't. And she inherited Phillip's estate. I think he'd sold his apartment building and had plenty of money in the bank and lived very cheaply.
Comment on the line from me in correspondence with Jeanie Stearns, "He's done worse to me and called me a liar when I reminded him of it and then came back meekly and asked if he really did that."
Once, somewhere between '68 and '70 I reckon, Bob Halpern and I tooling around in my old Volvo and came to a stop at an intersection in Japantown and who did we find walking across the street? Phillip Wilson in all his ape-like massivity. He seemed to me to be brooding or drunk or something like that (but I remember how JJ said he really wasn't into booze). I called out to him. He came over to the car, looked at me, reached into the window, grabbed my shirt, ripped it half off, took my arm and slammed it down on the open window ledge and walked off. As I sat there stunned and hurting like heck, Bob said to me that I'd asked for it with the tone of voice I'd used in saying hello to Phillip - maybe it was too cheery and smelled of insincerity. Years later, 2000 or so, at a Shunryu Suzuki disciples meeting in Berkeley, I reminded Phillip of this. He'd been talking in his sweet, innocent voice (reminds me now a tiny bit of the way Michael Moore does that), but after I'd said this he instantly switched to intense defiance, saying with fierce emphasis, "You are a liar," over and over as I said, "Nope, sorry. It happened," and adding what Halpern had said about me having brought it on and Phillip playing the role of brutal feedbacker. At the next disciples meeting half a year or a year later, Phillip asked apologetically if he'd really done that and I said yes and said he was very sorry and I said no problem.
At the first meeting of Suzuki disciples - back in '99 I think - I spent some time talking with Phillip. He said that he'd not been on good terms with his mother and sister - JJ can clarify this later - that they'd not accepted who he was or what he'd done with his life or something like that - but that he'd gone back to LA and helped his old mother out and taken care of her when she was dying and the same for his sister and that they had come to love and accept him. He'd inherited an apartment building in a section of El Monte, which had gotten pretty rough. He felt he had to take care of the residents of his apartment building, most of whom were older and had watched their neighborhood deteriorate through the years.
He liked to say hello to some of the young guys in the neighborhood but that a problem had developed between him and some of them because they weren't being respectful of the residents of his apartment house.
Note to reader: if you didn't know Phillip or haven't read any of the other material on him herein, take a look at some of the photos of him. The one below when he's older was taken not long after this story. Point here is that he was big and strong - Stanford offensive guard, ape captain of the guard in Planet of the Apes. Checking IMDB don't find him listed but most apes have uncredited or unconfirmed after their names. Hmm, it was released in April of 1968. Seems right. He was shuso, head monk, at Tassajara in the spring of that year, but it was back then somewhere. I remember him buying a pick up truck with the money he made off it. I remember him saying $10,000. Richard D. Zanuck was an executive producer. They'd known each other at Stanford. Phillip ran some sort of gambling scene there and he mentioned that Zanuck came and he knew him and that later they were in Palm Springs in a bar I think and Zanuck was attacked by thugs and Phillip saved him and got all cut up doing so. Back to El Monte.
There were young guys hanging out in the front of his apartment building and up in a tree there drinking and smoking pot and swearing. They were creating an atmosphere intimidating to the people who lived in his apartments. He wanted to be these guys friend but it wasn't good for them to hang out there the way they were doing it. He talked to them about it and politely asked them to meet somewhere else. They were not cooperative and answered him rudely.
Phillip grabbed the biggest one, the alpha male of the group, dragged him out on to the street, threw him down, and told him he'd appreciate it if they'd do what he asked.
Then he felt something on the back of his head. He put his hand on the back of his head. It was wet. He looked at it. He was bleeding. He turned around and there was one of the guys with a pipe in his hand. Phillip threw his arms out in a welcoming gesture and said, "Oh, you want to hit me with a pipe? Go on. Do it again. It just makes me stronger."
"Now," he concluded his story with a tone of disappointment, "They're not bothering the residents of the building, no one is, but they're also not friendly. When I see them and say hi, they cross to the other side of the street."
I liked walking with Phillip into some of the rougher areas near the Zen Center. He was sweet, interesting, would zap me with his intuitive feel for something deeper, and he was fearless. (so were Reb Anderson, Bob Halpern, and Niels Holm)
Shunryu Suzuki loved Phillip. When they were together working they were a smooth team. Suzuki saw great potential in Phillip and wanted Phillip to be a Zen teacher. I remember that Kobun Chino also thought Phillip had that in him. He'd spent years plugging away, doing his best. But it didn't happen. Phillip went off. He'd come back now and then to say hello.
After the disciples' meetings Phillip stayed in the SFZC building for a while and he told me he was thinking of moving there, but it didn't work out. I'm not sure what happened but he came off as a little crazy.
JJ called Bill Kwong, abbot of Genjoji, just a ridge away from me, and told him that Phillip had died. Bill said, among other things, that now we can breathe a sigh of relief and stop worrying about him.
I remember Phillip crossing his thick legs in his robes on the altar at Tassajara. He sat like a stone. Later he burned his robes.
Rest in peace oh troubled pilgrim on your Bodhisattva path.
---
First came this: 9-16-07 - Early sixties Suzuki student, Jeanie Stearns, responds to Early Tassajara Alumni Reunion page by informing us that Phillip Wilson died in Los Angeles in July of this year. Phil was the second person that Shunryu Suzuki personally ordained as a priest, the third he sent to the famous Soto Zen training temple, Eiheiji, in Japan. Phil was the second person, after Zentatsu Richard Baker, to be shuso, head monk, at Tassajara, Zen Mt. Center. I have lots more to say and interviews with both Phillip and his wife of those days J.J. Wilson which I will go over and post as I get to it. I'll also be in touch with Jeannie and J.J. Please send your memories of Phil. And photos.
---
Then this: 9-24-07 - Recently I got an email from an old acquaintance named Richard Borowicz that said he'd run across someone and my name and Crooked Cucumber came up and, after 39 years he got hold of me and told me the sad news about Diana. More details later. Because of that, the someone who'd pointed him toward me, Jeannie Stearns, an old Suzuki student, sent me an email informing me of Phillip Wilson's passing.
---
Then this: 9-26-07 - Two photos of Phillip Wilson with Shunryu Suzuki. Phillip died in July. More later.
---
Then this:

10-21-07 - Phillip Wilson as found in Crooked Cucumber. Phillip died in July, not of a heart attack as I'd reported earlier, but, according to the coroner (according to JJ, his ex wife), of liver cancer. More on Phil soon. - DC Click on thumbnail to enlarge. That's Phillip to the left with the cup.
---
Then this: 1-02-08 - DC interview with Phillip Wilson, early disciple of Shunryu Suzuki.
---
Then this: 1-03-08 - Memories of Phillip Wilson as found in cuke interviews and some other sources. In the course of this I discovered so much work that needs to be done in these archives. Mercy. - DC
---
Then this: 1-06-08 - Interview with JJ Wilson
---
Then this: 1-07-08 - Correspondence between Jeanie Stearns and DC mainly concerning Phillip Wilson
---
Then this: 1-08-08 - On Phillip Wilson by DC
[that's this page]
---