Excerpts about or mentioning Shunryu Suzuki from other books (only a fraction of what there is - please let me know about more - need to update-DC)
---
***Many excellent Stories about Suzuki by Ed brown from his book Tomato Blessings and Radish Teachings: Recipes and Reflections. Links to more on Ed and this and other books of his can be found there.
*** Kazuaki Tanahashi article on Suzuki: Meeting with an Ordinary Monk
*** From Sun Buddhas, Moon Buddhas: a Zen Quest by Elsie Mitchell
*** A description of the Human Be-in from Peter Coyote's Sleeping Where I Fall
*** A 12 part series on Suzuki by Jodo Shinshu priest (now the Bishop of BCA), Rev. Koshin Ogui - in Japanese (English to come)
*** From Edward Conze's autobiography kindly sent by Rick Levine.
---
from The New Religions by Jacob Needleman
---
Zen Mind, Beginner's Mind in Ambivalent Zen : One Man's Adventures on the Dharma Path by Lawrence Shainberg
---
4-23-12 - from Stephen and Ina May Gaskins' books
---
1-05-12 - Introduction to The Teacup and the Skullcup: Chögyam Trungpa on Zen and Tantra by David Schneider
---
7-30-11 - Excerpts related to Shunryu Suzuki from Zen Questions: Zazen, Dōgen, and the Spirit of Inquiry, by Taigen Dan Leighton © 2011, Wisdom Publications, 2011 (November)
---
7-29-11 - Shunryu Suzuki and the Lotus Sutra in American Zen - an excerpt from Visions of Awakening Space and Time: Dogen and the Lotus Sutra by Taigen Dan Leighton.
21-02-15 - Shunryu Suzuki gave a talk at Grace Cathedral in June, 1968
Received the following in an email today (message below). I cut and pasted the pertinent parts below from the publication.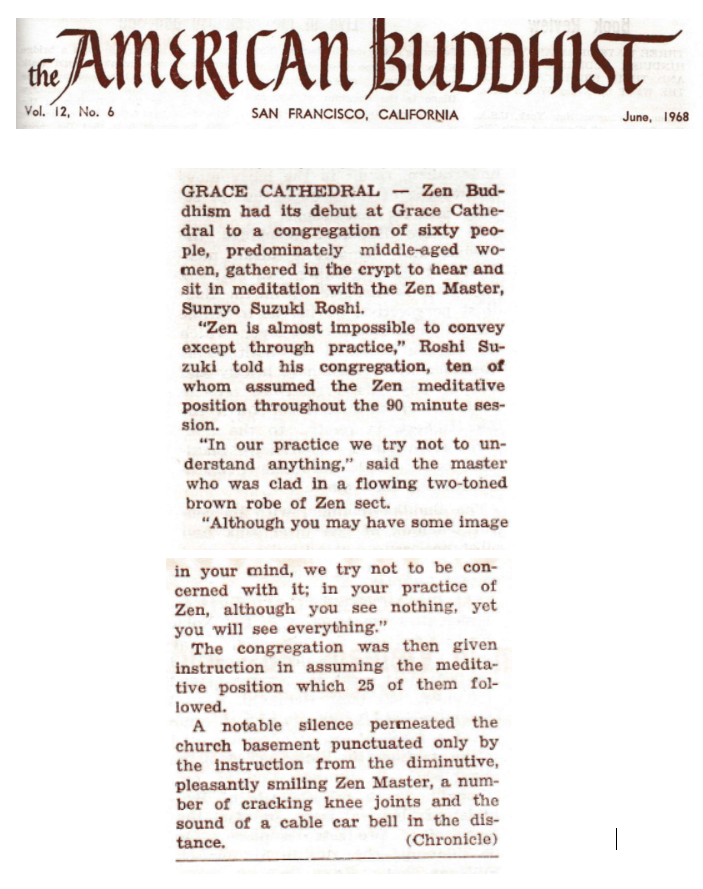 Hi David, I hope this email finds you doing well (under the circumstances). We met back in 2009 at the 50th anniversary event for Suzuki Roshi coming to America, I was one of the speakers for the UC Berkeley academic side of the festivities. My talk was on the transition of American Zen from counterculture into a successful subculture.
While going through some materials for a research project I'm conducting on Engaged Pure Land Buddhism, I came across a tidbit I thought you might not have, and when I searched at Cuke.com, I didn't turn it up. So, I'm attaching it here, in case it's useful for your ongoing project..
Best wishes,
Jeff Wilson
Professor of Religious Studies and East Asian Studies
Renison University College, University of Waterloo
Thanks Jeff! - DC
---
*** Go to Suzuki Stories for more