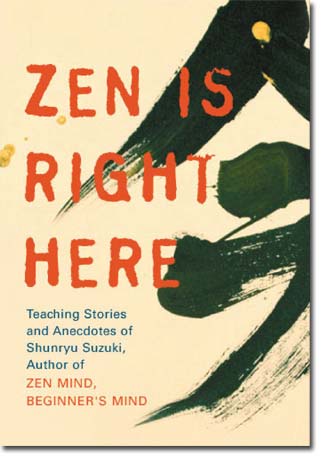 ZEN IS RIGHT HERE: Teaching Stories and Anecdotes of Shunryu Suzuki, Author of Zen Mind, Beginner's Mind

Edited by David Chadwick

Paperback / Shambhala Publications / 160 pages / 4 7/8 x 7
ISBN 978-1-59030-491-4 / October 2007

Zen Is Right Here (Shambhala link) List Price: $12.95 Shambhala Price: $10.36, you save $2.59 (20%)
click on book cover to enlarge
---
10-04-07 - ZIRH and the Colbert Challenge
Right now ZIRH-wise, what I'm thinking about is that Stephen Colbert's new book, I'm an American (And You Can Too), is being released the same day. Originally he had made a big deal on his show about how he was gonna kick Paul Krugman's butt sales-wise, likening it to the pro-wrestler-bravado-like competition between the rappers 50-Cent and the Bush-doesn't-like-black-people (who I think sort of missed the point - it was poor people that Bush, not, didn't like, but just was too busy for). But it turned out that the Krugman new book (The Conscience of a Conservative) release date Colbert had was wrong - it's coming out the 15th. So that leaves a void and I guess the competition now is just Colbert and me. Bring it on materialistic boob tube theist! Zen zappers are gonna leave you in the dust or else, to match the rappers' claims and your own pronouncement, if Zen Is Right Here doesn't outsell your book, every day I will sit silently on the floor with legs crossed pretzel-like for forty minutes or so. Some exceptions and restrictions apply. - DC
The following email has been sent to Stephen Colbert (twice - October 4th and 5th):
Subject: My Zen book being released Oct.9 will punt your posterior
Now that Krugman's out of the picture, Zen Is Right Here (Shambhala) is in your face. Today, my site, www.cuke.com, plugs your book and states that if Zen Is Right Here, released the same day, doesn't outsell your book, that every day I will sit silently on the floor with legs crossed pretzel-like for forty minutes or so. Some exceptions and restrictions apply.
---