Core Books by and about Shunryu Suzuki
(by in that they are his lectures edited by his students)
This is an older version. The newer version is at the top of the New Bibliography page.

Shunryu Suzuki Index
shunryusuzuki.com - the archive comes to you - all the transcripts - all the lectures from these books unedited as Suzuki gave them, all the audio, film, photos.
Books by DC
Main cuke bibliography
order them from  SFZC Bookstore
---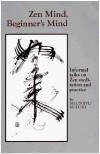 Suzuki, Shunryu. Zen Mind, Beginner's Mind: Informal Talks on Zen Meditation and Practice. Weatherhill, 1970.
Shambhala link to books by Suzuki
Amazon link
click thumbnail to enlarge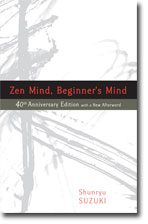 40th Anniversary Issue of ZMBM
the Shambhala link to Shambhala books by Shunryu Suzuki which are editions of ZMBM and Zen Is Right Here: Teaching Stories and Anecdotes of Shunryu Suzuki, Author of Zen Mind, Beginner's Mind [edited by DC] . Amazon link. 
ZMBM at 40 (the afterword to the 40th anniversary issue of ZMBM by DC)
---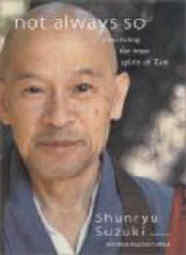 Shunryu Suzuki, edited by Edward Espe Brown. Not Always So: Practicing the True Spirit of Zen, Harper Collins 2002. This is the true sequel to Zen Mind Beginner's Mind.
---

Suzuki Roshi lectures on the San Do Kai---  
Hit thumbnail to enlarge cover.

Branching Streams Flow in the Darkness by Shunryu Suzuki
Mel Weitsman & Michael Wenger (Editors) $22.50 Paperback - 197 pages (November 1999) University of California Press ISBN: 0520219821
For more info go to Branching Streams.

---

Wind Bell: Teachings from the San Francisco Zen Center - Wenger, Michael &Erlich, Gretel (Editors) 1968-2001 North Atlantic Books, 2001. A great collection of various articles, including Suzuki lectures, from old Wind Bells.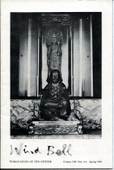 The Trikaya - edited by Tim Buckley from Suzuki lectures on the Lotus Sutra - the text with a link to a PDF of the Wind Bell that it was published in.
---
Introduction to Shine One Corner of the World (the original name of Zen Is Right Here)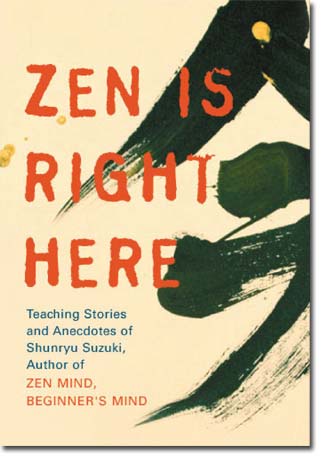 Zen IS Right Here,Teaching Stories and Anecdotes of Shunryu Suzuki, Author of Zen Mind, Beginner's Mind
By Shunryu Suzuki 
Edited by David Chadwick
Paperback / Shambhala Publications / 160 pages / 4 7/8 x 7 
ISBN 978-1-59030-491-4 / October 2007
Zen Is Right Here (Shambhala link) List Price: $12.95 Shambhala Price: $10.36, you save $2.59 (20%)
Zen Is Right Here home page on cuke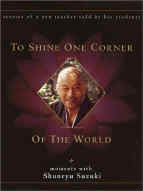 Zen is Right Here once was
To Shine One Corner of the World: Moments with Shunryu Suzuki
---
And, of course, there's the biography of Shunryu Suzuki that this web site was originally launched to promote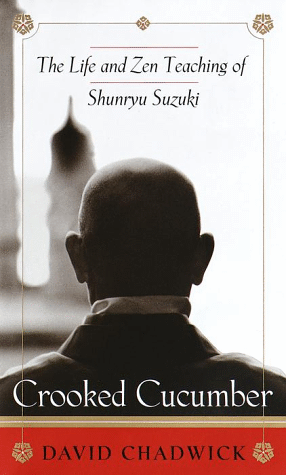 Crooked Cucumber: the Life and Zen Teaching of Shunryu Suzuki
by David Chadwick
Broadway Books, 1999
432 pages with 16 pages of b/w photos. 
---

Fronsdal, Gil-editor.Remembering the Dragon: Recollections of Suzuki Roshi by his Students. Published in 2004 on the occasion of the 100th anniversary of his birth. Includes many photos. . $10 paper. order only from  SFZC Bookstore
---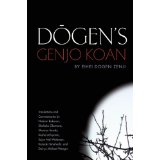 Just stumbled across this not yet released book: Dogen's Genjo Koan: Three Commentaries by Eihei Dogen, Nishiari Bokusan, Shohaku Okamura and Shunryu Suzuki (Aug 1, 2011) Published by Counterpoint.
posted 4-25-11
---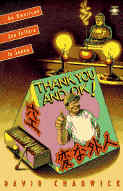 And then there's Thank You and OK!: an American Zen Failure in Japan which has more about Suzuki in it than any other book except Crooked Cucumber - 17 pages all added up.

check out the Thank You and OK home page
---
Go to section for these books in this site's bibliography which includes Amazon.com links. Also many other books with material on Shunryu Suzuki.
---

9-06-07 - Letter to DC from Yeachin Tsai
hit thumbnail to enlarge 

I am very happy to inform you that Shunryu Suzuki's "Not Always So" has been published in Taipei, Taiwan, on Aug. 24, 2007. The book so far has been very well received by the huge Zen Buddhists population in Taiwan. As my recent knowledge, it also starts its selling in the bookstores in Hong Kong and Malaysia. For people who can read Chinese, they can go to this link to purchase the book.

Thank you for all your help on the process of translating this book (which I mentioned it in the translator's note). Wish all is well with you.

Your in the Dharma, 
Translator, Yeachin Tsai
New York, USA
www.everydayink.com 
http://shambhalachinese.blogspot.com/
The art of Yeachin Tsai - and. Here's her daily art blog.
---
As an Amazon Associate Cuke Archives earns from qualifying purchases.