5-5-5 -- Five contributions
---
1 - Thanks to Michael Sierchio and John Tarrant for this: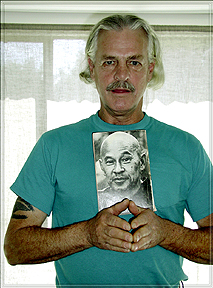 FREEWHEELIN FINDS A ZEN MASTER, Oakland 2000
When Hell's Angel Freewheelin Frank left the Angels they made him tattoo over his Hell's Angels tattoo, as shown in this photograph. Frank spent five years in Soledad Prison for arson before this photograph was made. While he was in prison, McClure sent him a book by Zen master Shunryu Suzuki Roshi to help him clear his head. Frank told me the book by the Zen master saved his life. He said that he has been living in the mountains by a waterfall for over 10 years. With this knowledge, I set up this photograph and shot it with my digital camera.
See more photos of Freewheeling Frank with Michael McClure.
See Michael McClure's homepage from the same site. An interesting site that he shares with Doors keyboardest Ray Manzarek.
2 - This reminds me that I've got to get off my duff and interview Michael McClure. He's told me he'd be happy to do it. I'd like to get his memories of Suzuki and whatever and I'd like to also interview a few of his beat comrades from back then - Ferlinghetti and Dianne di Prima. I've talked to Gary Schneider and took some notes and I remember them and I'd like to ask him a little bit more. I've got interviews with Philip Whalen and Allen Ginsberg on the site. I think I should enlist Dave Haselwood who was the first person to publish some of these folks including Whalen and McClure. This is something I've wanted to do for a long time and I put it off by making the excuse that I am broke. But I'm always doing something so I'll see if I can sneak up behind myself and give myself a little push. There are other interviews I'm working on but I like the idea of walking this beat.
3 - Another thing I've got to do which I keep taking notes on and thinking about is do something to generate money. The first thing on the list is a fundraising drive which would mainly consist of a letter with some follow-up. Whatever I do in terms of fundraising will of course be posted here. I'm gonna get a letter together pretty soon, mainly just listing what sort of non-profit stuff I'm doing and wish to do that may be perceived as worthy by some noble beings. So I guess I think if I write this stuff here it will speed up the process which is looking fairly glacial these days.
But something else that's caught my attention recently is a way to market some creations. Thanks to alert and helpful reader, Tom Persinger, I've become aware of www.cafepress.com and www.lulu.com. The former would be good for marketing t-shirts and other products that will be emblazoned with yet to be announced fascinating and stylish words and art. The latter would be a way to make little books, calendars, comics - whatever I come up with - available. Lulu could also be a way to make my out of print books (Thank You and Okay and To Shine One Corner of the World) available until public demand becomes so overwhelming that a publisher gets interested in putting them out. Or I could put them on cuke.com so they could be read there or even printed up. I'm looking into all this stuff now and am fairly excited about it. Incidentally, both of those out of print books are available from many sources on the Internet in small numbers both new and used.

4- I've got to get that contest concluded. It's gotten sort of complicated and I want to look for something in the SFZC archives tomorrow that is related - the first use of Suzuki's enso - though I know what it looks like - but just to be obsessive. Here's another enso I'll include in the left column of the Fourth Hints. It's a terrific enso by Brian Howlett who's really a lot more demented than one would be led to believe by looking at this lovely work of art.
Click thumbnail to enlarge
5 - I've really been wanting to write an update on the Zen Aluminati but I'll just say a bit here. I'm getting tired and have to go supervise and inspire today's youth tomorrow at my son's little hippie school in the woods - just a couple of hours of clearing weeds I think. Then Clay (14) and I will zip off to San Francisco where I'm going to read from the Tibetan Book of Living and Dying to Ananda Claude Dalenberg (see Who We're Thinking Of) and visit Chuck Gould who broke his leg and finds it very difficult to get around or leave the house. In the early evening we're going to see the movie, The Wild Parrots of Telegraph Hill at the Embarcadero with filmmaker Judy Irving and author Mark Bittner present with feathered friends.
---