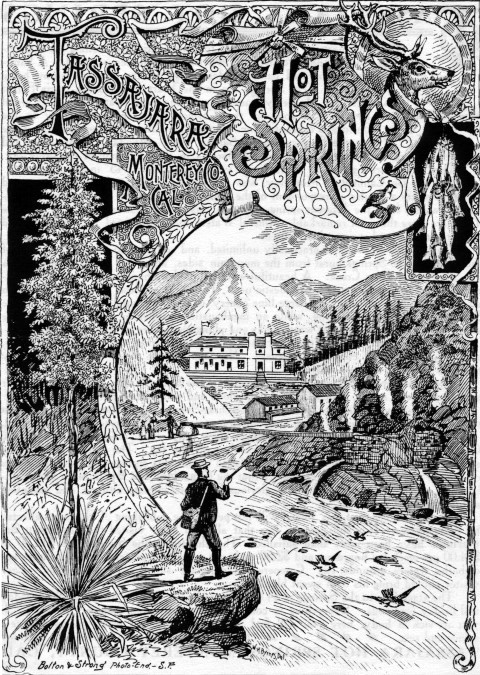 The creek was pretty much fished out by the mid thirties so this promotional item is likely from before then.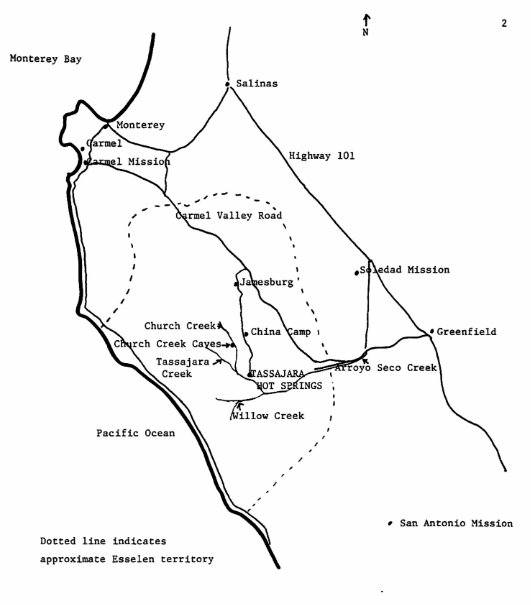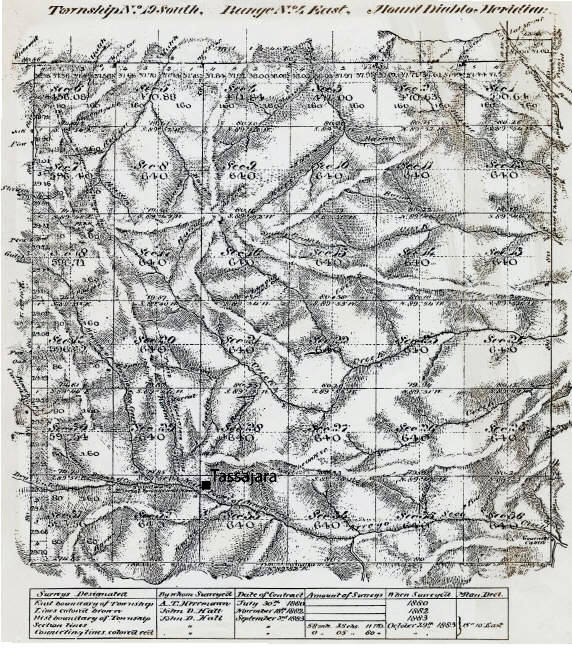 Fraudulent Survey from 1870s by John D. Hall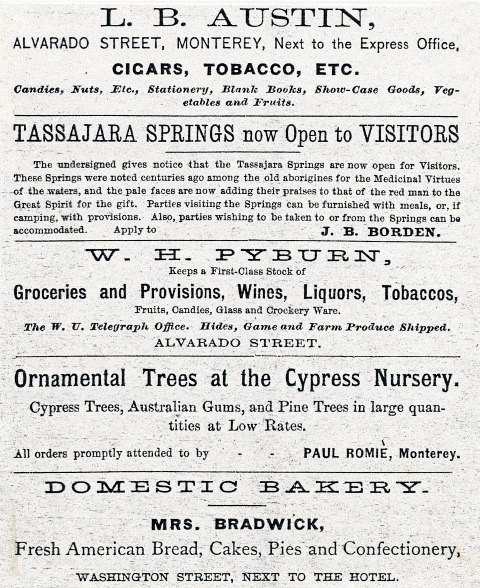 A page from The Handbook to Monterey and Vicinity 1875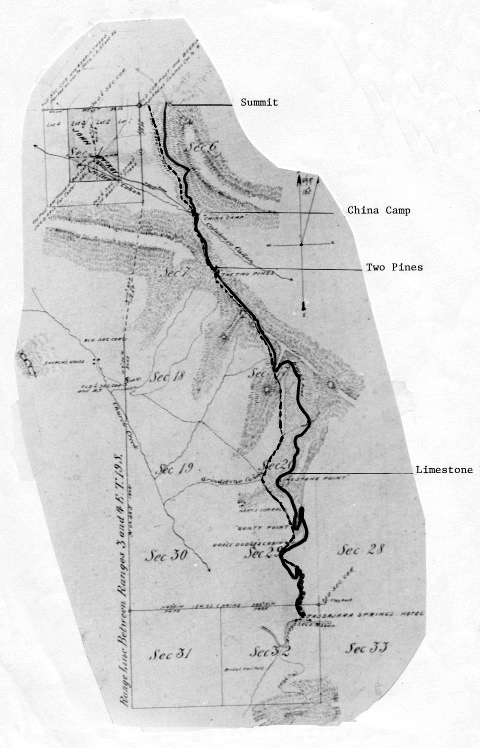 Map of Tassajara road. Dotted line – The Indian Trail. Solid line- the road finished in 1888 from the summit down to Tassajara.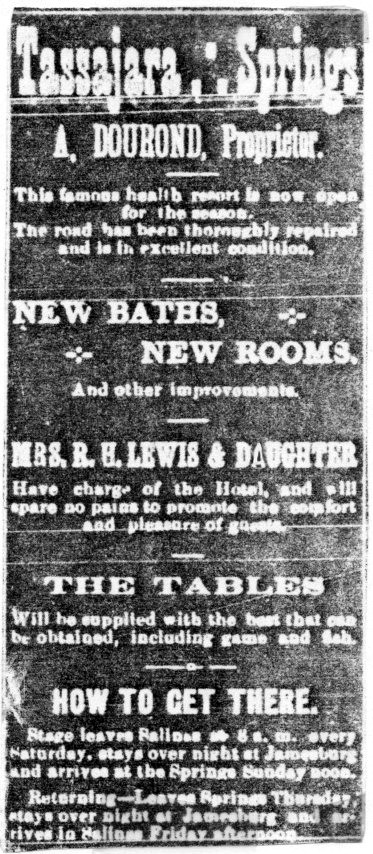 June 1890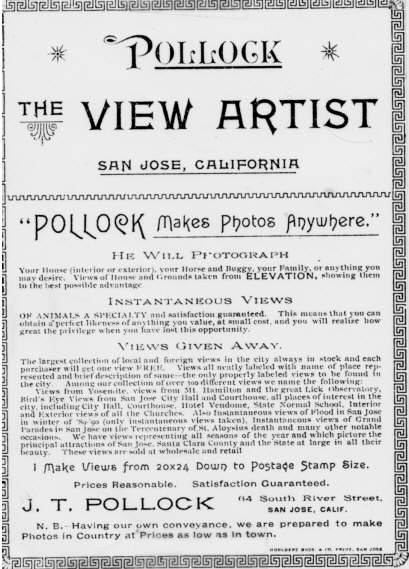 See 1890 photo on Tassajara road by Pollock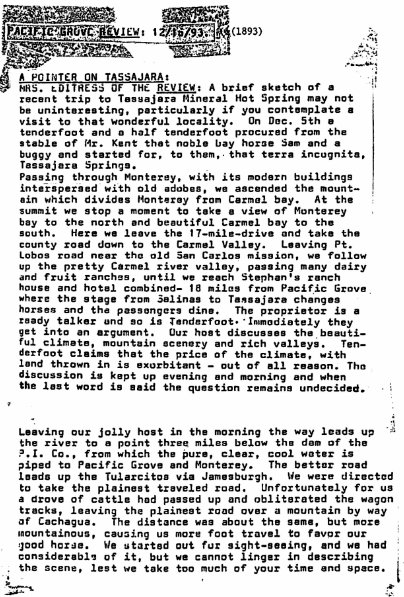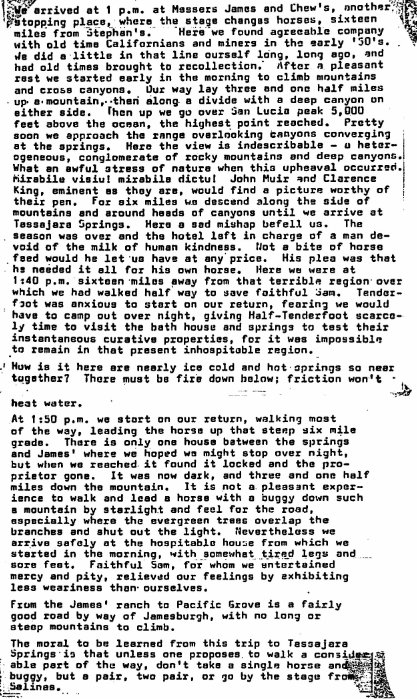 From: Pacific Grove Review: 12/16/1893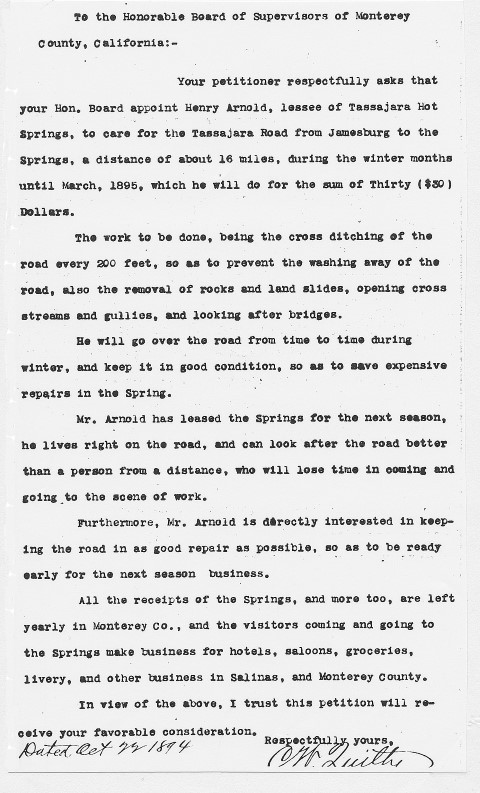 Road Petition - 1894
from the Daily Evening Owl May 1896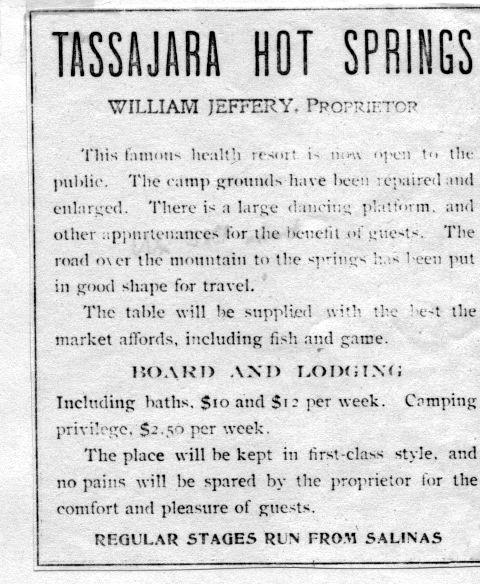 Official Souvenir of the 34th encampment G.A.R. Pacific Grove 1901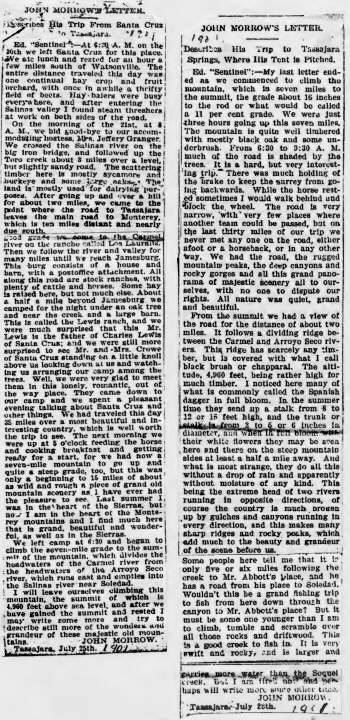 John Morrow's letter - The Santa Cruz Sentinel July, 1901
Below are Field Notes from
Lou G. Hare Monterey County Surveyor Tassajara-Piney Creek Survey 1904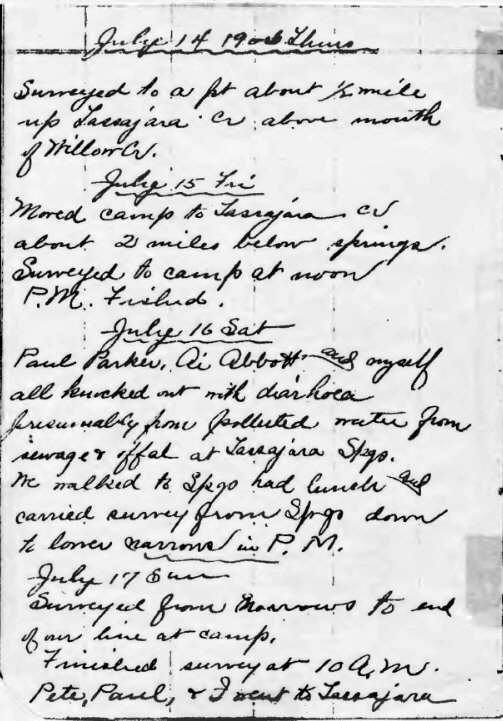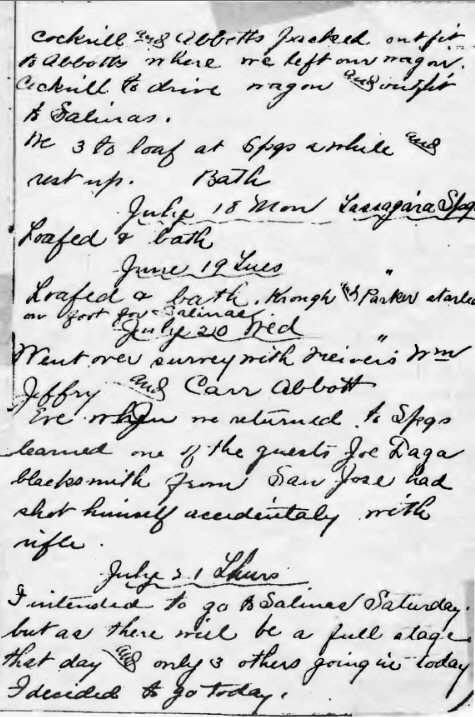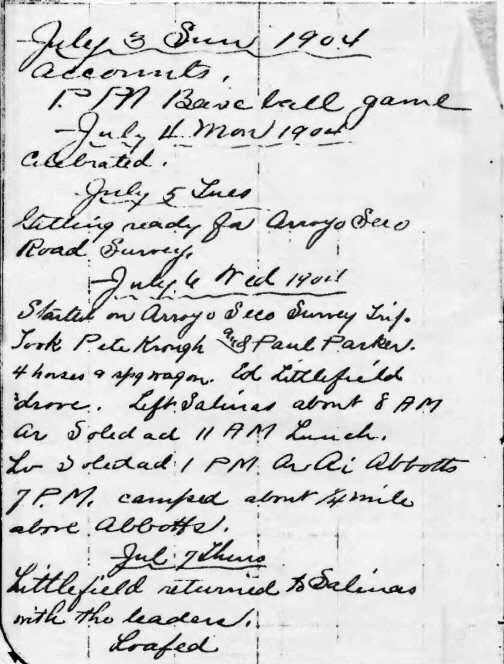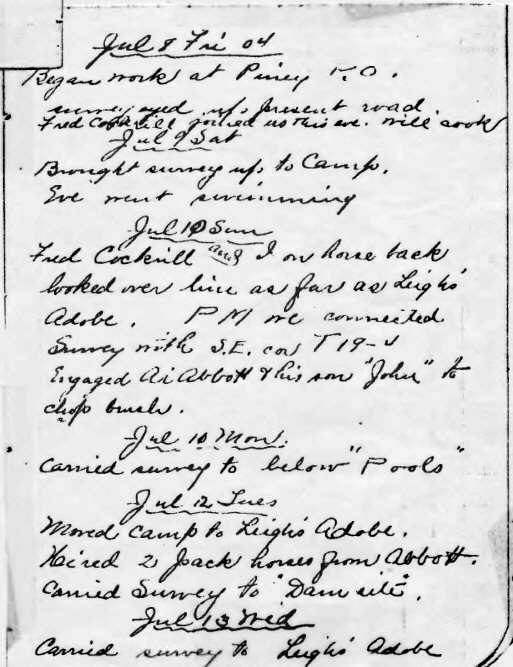 Field Notes - Lou G. Hare Monterey County Surveyor Tassajara-Piney Creek Survey 1904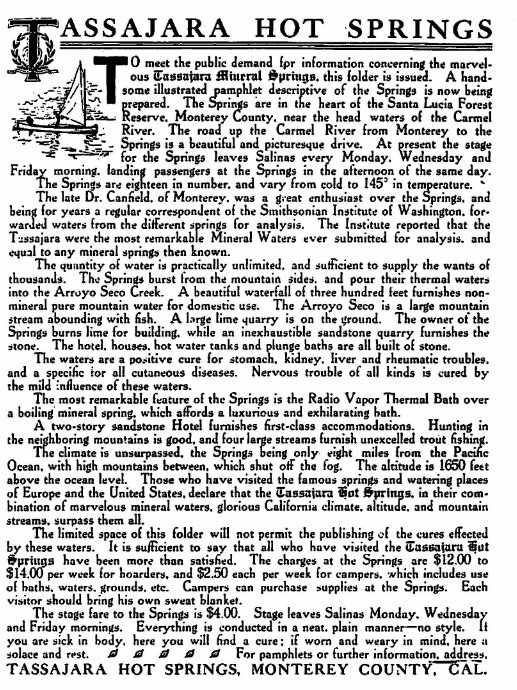 Brochure 1905 (thanks to Robert Beck)

The three that are mostly unreadable below from Records - Monterey County Road Department, Salinas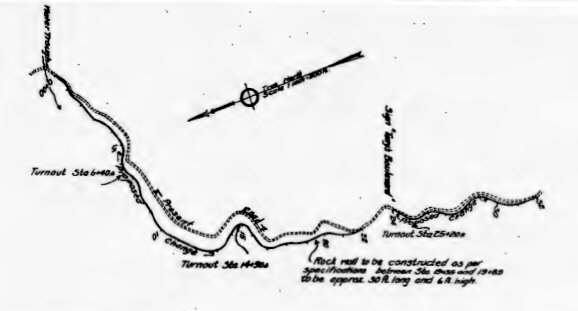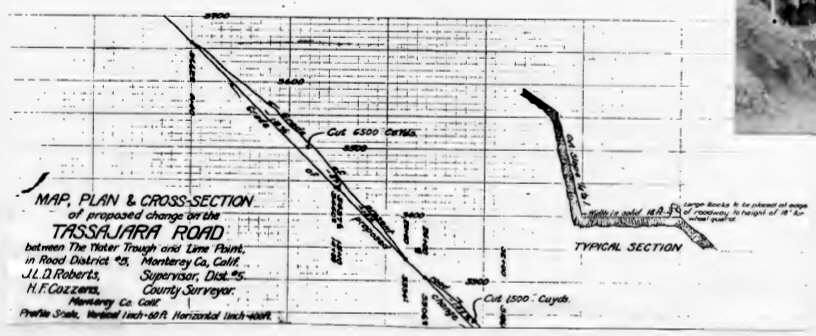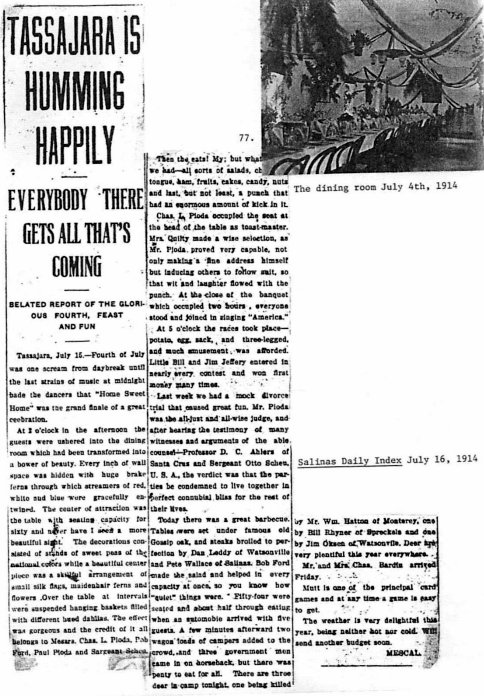 Salinas Daily Index - July 16, 1914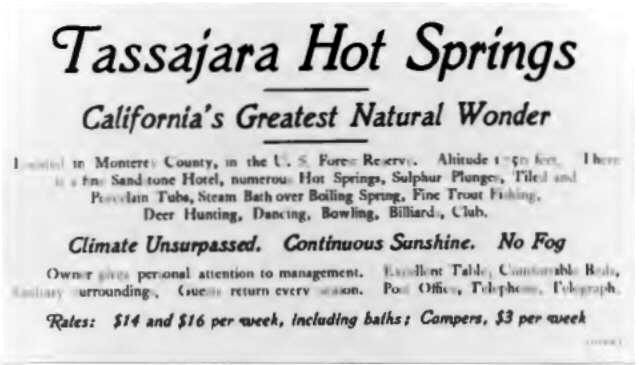 post card 1915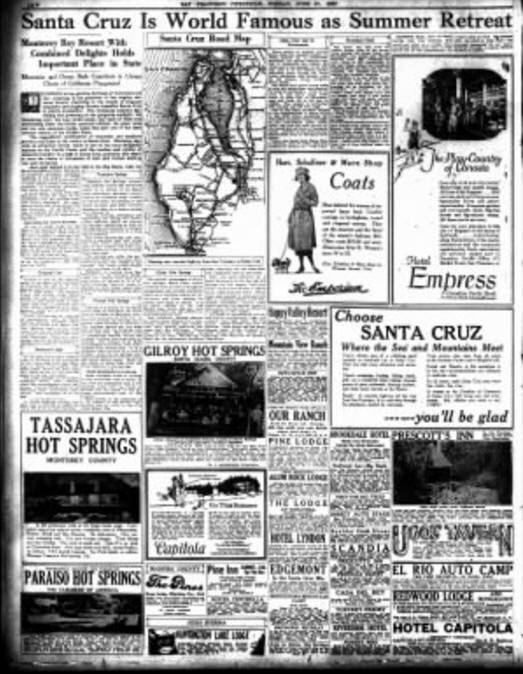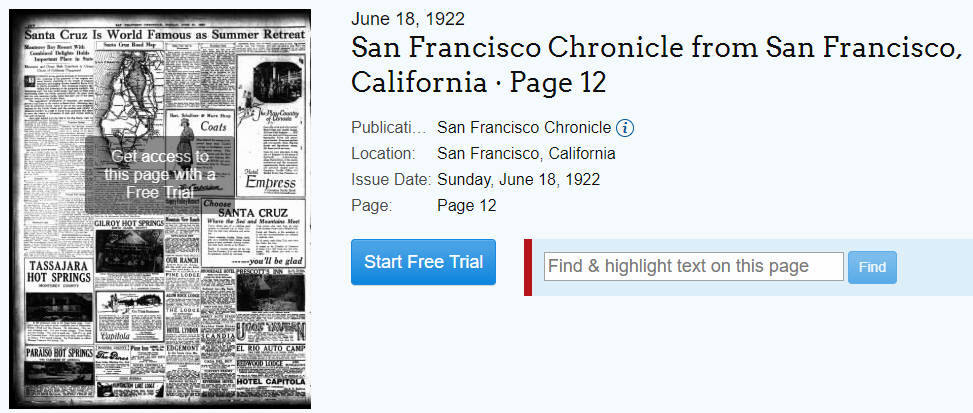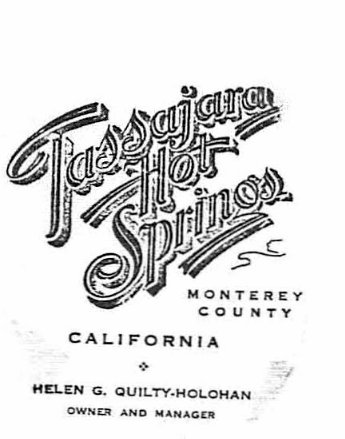 Dear Mr. Machado, Thanks so much for the pictures you so kindly sent me. They are fine and I shall treasure them very much. I am leaving in the morning and the tears are on tap all the time. Pete will bring my deer head later on. Love to the Family - H.G.Q. - Postcard written by Helen Quilty the day she left Tassajara in 1927 - to Chris Machado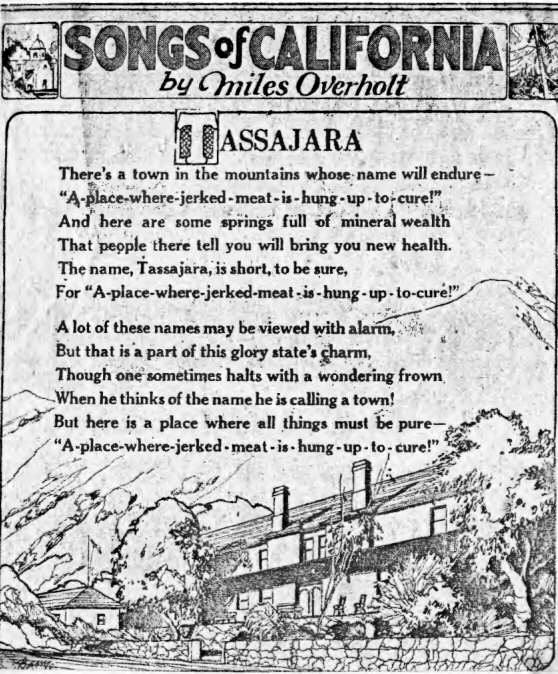 The San Francisco Chronicle January 19, 1930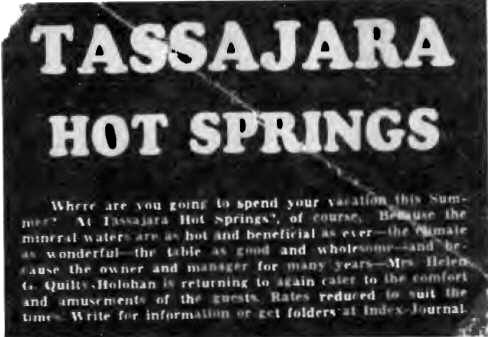 Salinas Index Journal July 1933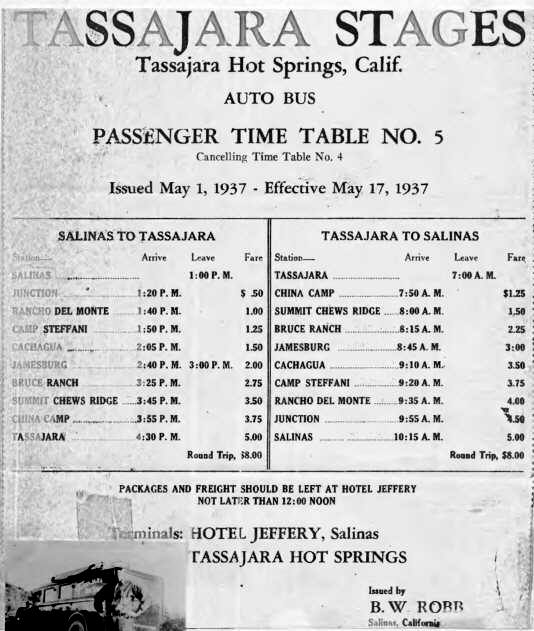 Bruce Robb and the stage
Below a brochure from 1949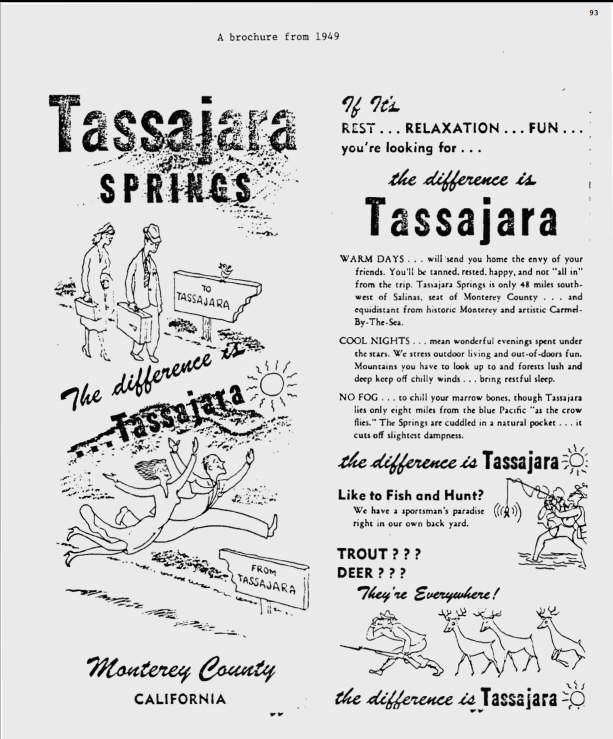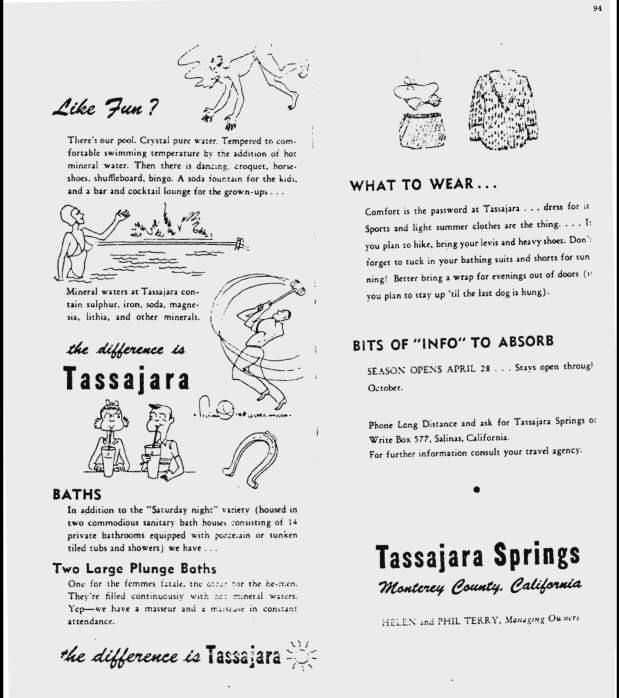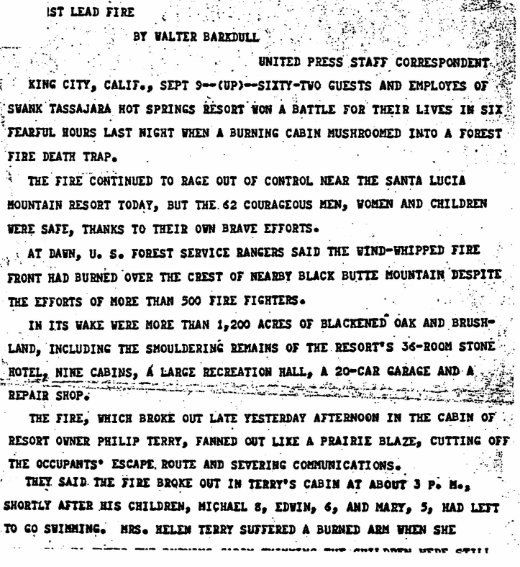 First report on the Tassajara Hotel fire September 9, 1949 - see the whole text and much more.
Salinas Californian December 16, 1954
Below are adds placed by the Becks who bought Tassajara in January 1960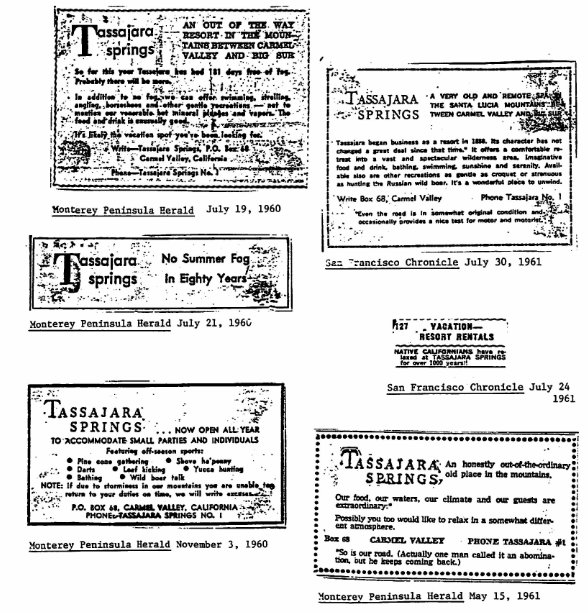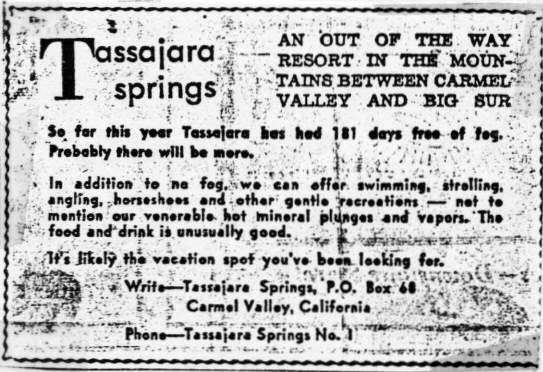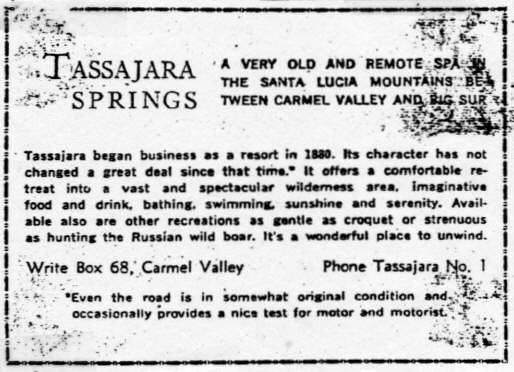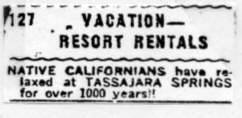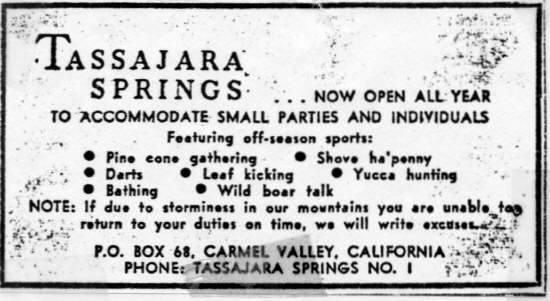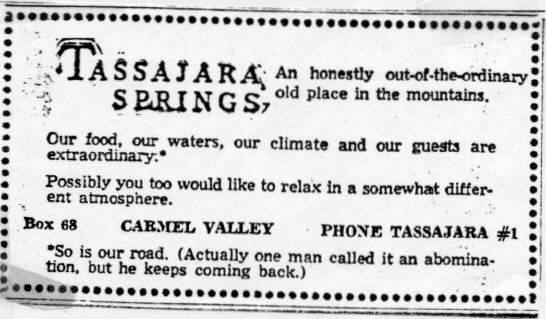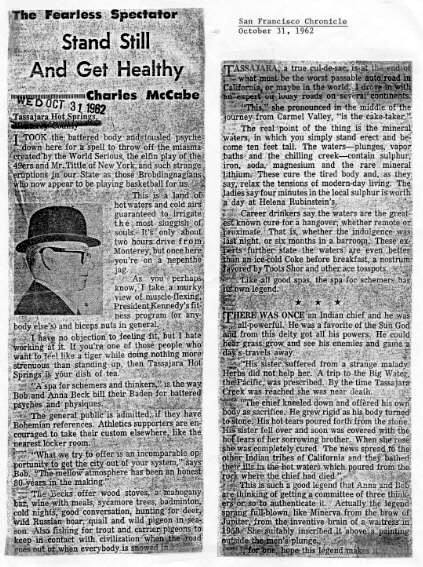 Charles McCabe's article on Tassajara in the San Francisco Chronicle - October 31, 1962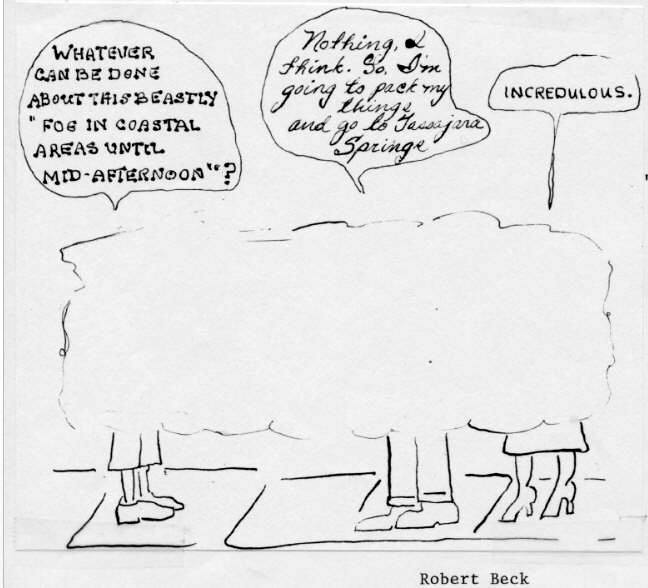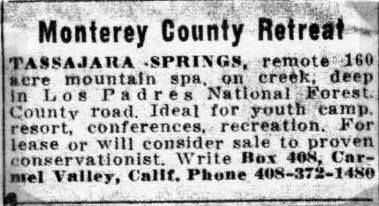 Wall Street Journal 1964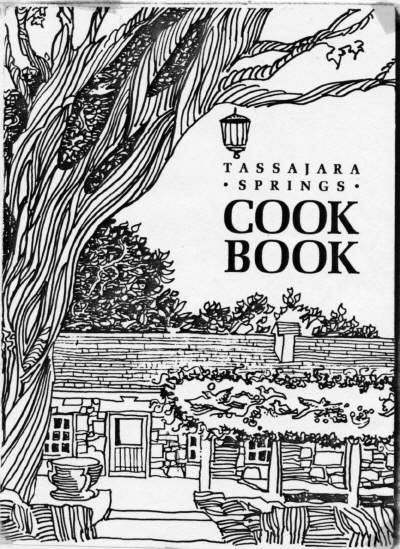 Published for on-site sale 1965.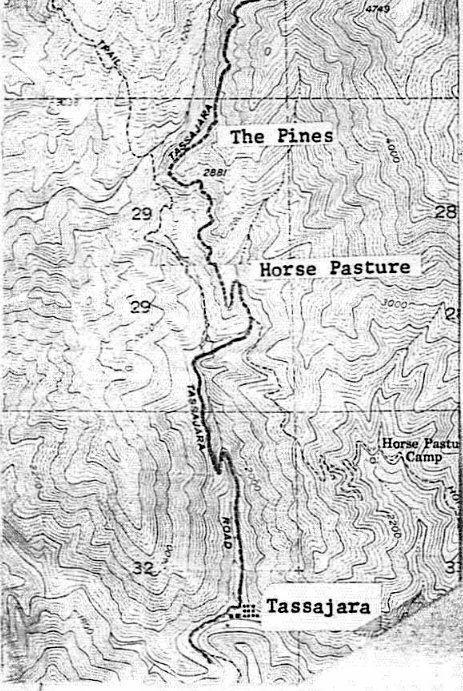 Below are results of tests on the water from the hot springs done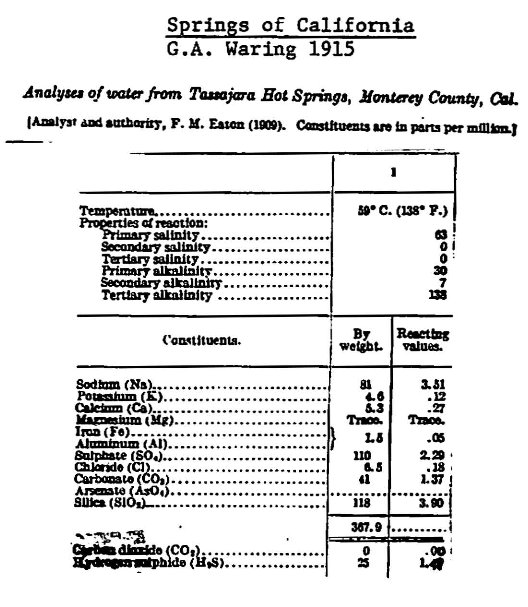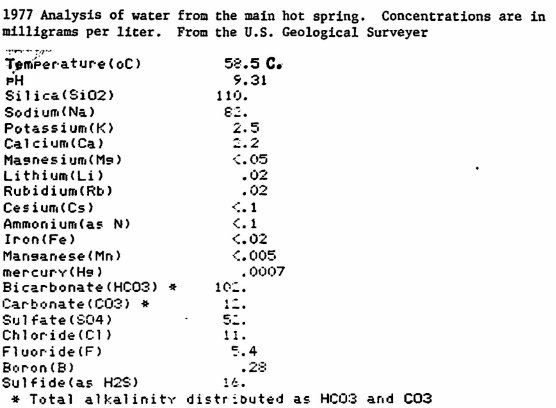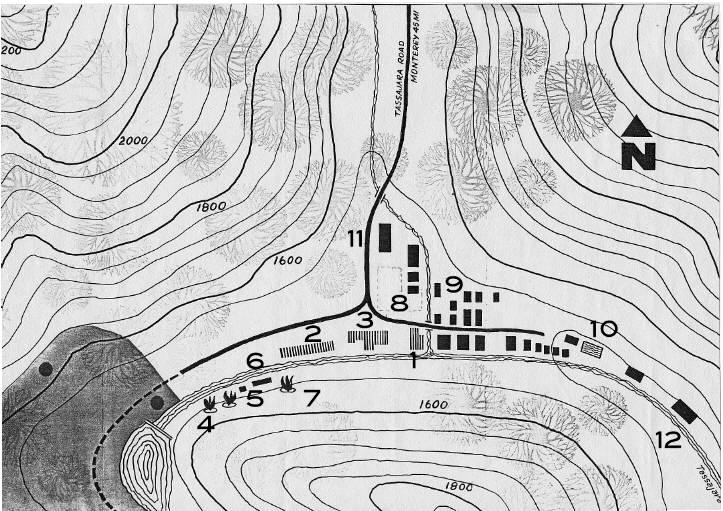 Map of Tassajara Hot Springs made in 1983
1. Early Club House- 1983 Dining Room
2. Stone Bath House- 1983 Guest Rooms
3. Early Dining Room- 1983 Office and Zendo Ruins
4. Hot Springs
5. Plunges
6. Steam Room
7. Magnesium Spring
8. Hotel Location- 1983 Zendo
9. Cabins
10. Swimming Pool
11. Early Bowling Alley
12. Barn
Between 10 and 12 is the Lower Barn. Don't know how old it or the barn are. - dc