Historical Photos - Historical Documents
Page for Marilyn McDonald's A Brief History of Tassajara
which has many photos, documents, and lots of info not found here on cuke.
The mural at Tassajara telling a version of the Indian legend of Tassajara's hot spring water - and a painting on a rock.
Articles by David Rogers
Church Creek Ranch and Caves (online at Ventanta Wild) - with some on Tassajara
Tony and His Trail (online at Ventanta Wild) - on the Tony Trail from Tassajara by the waterfall over the ridge
A Trip to the Hot Springs, 1869 (online at Ventanta Wild)
Early Tassajara History - on page for Wind Bell excerpts featuring Tassajara
Rebuilding the Tassajara Baths - from spring 1984 Wind Bell - with good info on the history of the baths - PDF
Memories of Old Jack (Novcich) - by Laura Burges
Marilyn Doyle - Pre SFZC Tassajara historian
A__ Beck and Nancy Roscoe interview (former Tassajara owners)
Tassajara Stories - almost entirely post ZC
---
Marilyn McDonald's (formerly Doyle) book on history of Tassajara will be available in the future. Currently there's a copy of her manuscript and some photos at Tassajara, at the UC Berkeley Bancroft Library (Type in Tassajara Hot Springs in the upper right search box.). Marilyn was a guest who came to Tassajara many times and did interviews and historical research there and elsewhere. The following basic history of Tassajara is based largely on notes from her manuscript. - dc
Basic Tassajara History - in progress July 2017 - DC
Owners
Pre history - Indians for thousands of years, Esselen Indians when Spanish arrived in the area by 1770.
1868 - J. E Rust opened camp - first official settler
1875 - Jack Borden advertises
1876 November - Borden sells squatter's rights to William Hart.
1884 - Hart officially homesteads 160 acres including the springs
1885 March - Charles Quilty buys Tassajara. He and his wife Mary and 2nd wife then widow Helen own it for 60 years.
1945 May - Ralph Myers & James Bundgard who leased his share to Myers whose wife & then widow Helen weds Philip Terry.
1949 September 9 - Hotel burns down and other buildings and woods
1951 October - Angela and Frank Sappok
1959 April - Margaret and Lester Hudson
1960 February - Robert and Anna Beck and Fred and Nancy Roscoe who sell their share to Becks after a month.
1966 December - Becks receive first payment on Tassajara
---
More details
Indians used the springs for thousands of years
Esselen Indian village was there that came to an end some time after the Spanish arrived. Indians thought to have been taken to the Carmel and Soledad Missions. Reports of Junipero Serra himself going there. Esselen Indians page
Called Agua Caliente or Agua Sanite - and the creek was called Arroyo Seco
1868 J. E Rust opened camp - first official settler - laid out a trail for horse declared a "public highway" - built a log cabin - left in 1869
Early 1870s trappers and bear hunters Doc Chambers and Rocky Beasley lived at the caves now Church Creek Ranch and frequented Tassajara.
Tassajara meant "place where meat is hung to dry." Early reports of a log cabin there with no windows and low door had meat hung on strips of rawhide over a fire smoldering on floor.
J.B., Jack Borden first proprietor named it Tassajara and the creek Tassajara Creek. He built the shale structures for a kitchen and dining room - was dining room when we bought it. First zendo and office. Shale rock from hill across from baths. He advertised and tried to form a stock company. Advertised it in 1875.
In November 1876 Borden sold his squatter's rights to William Hart. By March 1877 Hart had put up some buildings - three room hotel and rooms which is what became the clubhouse and present day dining room. The retaining wall and fill might have been started back then. Put up tents and widened the trail from James Ranch where the national forest begins. Hart planted a large garden. Abundant game and fish. Officially homesteaded 160 acres including Tassajara in 1884.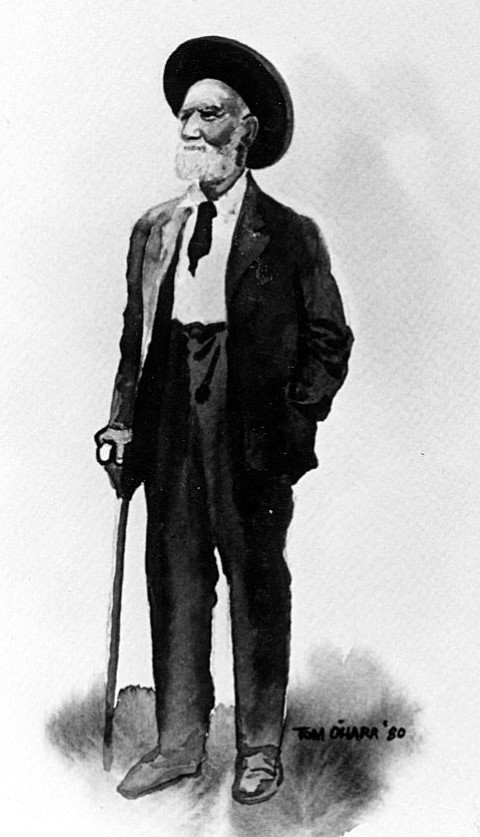 painting of Carr Abbott
Charles Quilty Jr. bought from Hart in March 1885. Leased the springs to Carr Abbott of Salinas. Quilty had the road built, continuing from James Ranch. Opened September 1888 with a stagecoach run from Salinas. Built a 40 room sandstone hotel completed and opened in 1893 - 10 to 12 dollars a week for boarders and 3 for campers.
1891 Mary Quilty legally claimed water from uproad and laid pipe for drinking water at Tassajara.
In June 1891 road redeclared public highway and from then on Monterey County took care of it.
1892 Tassajara post office established so mail had to come in even if there were no stage guests so in 1894 moved to Jamesburg
In June 1894, Charles Quilty bought the Horse Pasture
1894 to 96 Harold Arnold leased the springs.
Sarah Church Arnold gave birth to the first non Indian child born at Tassajara - Henry Wallace Arnold May 1894.
April 1897 Mary Quilty dies of heart disease at 38 shortly after birth of their eighth daughter.
1898 James and Emma Oksens hired by Charles Quilty to be caretakers.
April 21, 1899 Charles Quilty, 40, married a San Jose schoolteacher, Helen Ford, 26, of Gilroy in Gilroy.
In 1899 dance platform built.
In 1900 Bill Jeffrey leased Tassajara and the stage for two years, Second floor on the clubhouse built. Bowling alley put in. Gasoline engine for ice.
1904 Charles and Helen Quilty take over management.
In 1904 Quilty petitioned the Monterey County Board of Supervisors to continue the road downstream to the Arroyo Seco River. Deemed too expensive to do.
1905 Quilty got liquor license and club house became bar and cardroom called "The Club."
In 1906, a new bathhouse and reservoir for the hot water built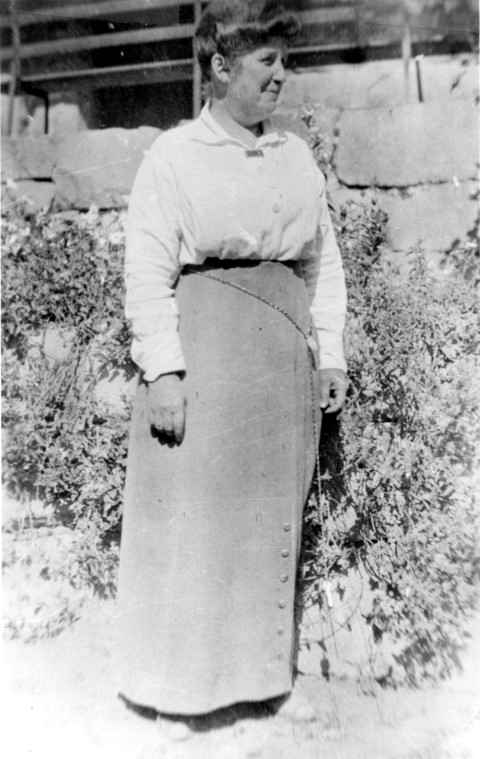 photo of Helen Quilty c. 1904
1909 first cars coming in
1910 Charles Quilty has an accident on the road, breaks leg, complications lead to his death September 20, 1914
1913 - Bill Jeffrey contracted to drive people to Tassajara. Buys two Cadillacs.
First stage May 1916 from Salinas every other day in 1917 every day of the guest season. Ira Bailey bought Bill Jeffrey's two Cadillacs and had them modified by a Salinas cabinet maker to hold nine passengers.
Telephone and telegraph in office 1917. Phone up top - only one car on the road at a time.
1918 - Mrs. Quilty bought the Pines from G.P. Hansen for ten dollars.
In 1918 Harrison Fisher, a well known artist, painted the maiden on a boulder up the road. Page with photo
1919 - Nine cabins put up across from the hotel. Then 19 more down the lane toward the barn. Bowling alley converted to staff quarters. Laundry constructed down by the barn. Room for 200 people.
From 1919, when the Volstead Act was passed and prohibition started, until
1933 when it was repealed, Helen Quilty closed the Club House as a bar, and used
it as a card room and barber shop--with no liquor served. Guests brought bootleg
liquor and drank it in their room.
1920 Supervisors decided to reduce the grade on the steepest parts and road widened at Tony's Boulevard, the most difficult part making the road more accessible to private vehicles.
1920 generator for refrigeration. 1924 generator for Electric lighting
Swimming pool put in 1920. Opened in May 1921. Before that pools were made in the creek upstream and down by moving rocks, deep enough for diving.
1923 Ira Bailey gave up Stage line - 8 years without an accident. Stage continues for those who wish it till mid thirties.
1927 - Mrs. Quilty leaves Tassajara - leases to Salinas businessmen who form "The Tassajara Hot Springs Company." They hired George Kingsbury as manager with his wife in charge on dining room.
1932 Helen Quilty, now remarried to San Quinton Warden James Holohan repossesses Tassajara due to depression resort biz down. Malcolm and Irene Laird were caretakers and stayed on. Helen went back there for guest seasons.
Lorimier Deisel Motor 1930s big and loud for electricity.
1942 Tassajara and national forest closed due to war.
In May 1945. Ralph "Cocky" Myers and James Bundgard bought Tassajara from Mrs. Quilty-Holohan. Bundgard leases his share to Myers who uses Tassajara in the first year for friends and family.
May 1946. The Myers opened Tassajara to the public with Elmer and Sybil
Faul as managers.
Returning from a polo match in San Mateo on June 16, 1946. Ralph Myers' private plane crashed, killing him and the pilot Phillip Prader. Helen Myers continues at Tassajara, opens the 1947 season.
On October 29, 1947. Helen Quilty-Holohan died.
There was a large, heavy bell sitting by Gossip Oak said to come from the Speckles Railway. A guest welded it to a sturdy metal pole and it's been used to call guests to meals since. Date for this unclear.
Helen Myers updates old buildings. Reopens for 1949 season.
June 1949 she married Philip Terry, a movie actor. Together they manage Tassajara.
September 1949 a fire starts in the nursery cabin for Mrs. Myers-Terry's three children who were at the pool. Cause unknown. The fire spread to the hotel which was destroyed along with the nine cabins across from it, a recreation hall, a twenty car garage, a shop, bridges, and 1200 acres of forest land. Three hundred fire fighters fought it. Forty guests and twenty-two staff were not able to leave. Helen's arm got burned and a guest was treated for minor burns. See Tassajara Fire History page.
The Terrys reopened in 1950 after turning the Stone bath rooms into living quarters and creating an office and lobby from the downstream end of the dining room. There was a forest fire that summer in the national forest that burned for thirty days, blocking the sun, and raining down ashes like snow. They decided to sell.
Angela and Frank Sappok purchased Tassajara in October 1951. The Sappoks had come to the United States from Germany in 1929. Had owned a liquor store and the Franco Hotel in Castroville. Known for their good food and under them Tassajara became more of a drinking and party place. Lived there with their daughter year round.
In 1958 there was a report that uranium was discovered at Tassajara that made headlines. Turned out not to be true.
1958 heavy rain road washed out. Bridges plugged up damming creek - water flooded into Stone rooms. Front part of plunges knocked off foundation.
Summer of 1958, a young waitress, Annemarie Brunken, painted the mural for a wall in the bathhouse and wrote the legend of Tassajara based on a poem she found in the library. Page for this mural and the Indian maiden on the boulder.
November 1958 Frank Sappok had a heart attack and accident on the road. His jeep overturned. He died later as a result. Tassajara was only full on the weekends then and it had never been profitable for them.
April 1959 Margaret and Lester Hudson, a retired admiral in the navy, bought Tassajara. It was a mistake. They were wealthy, older, always went back to their Carmel home to sleep.
February 1960, Robert and Anna Beck and Fred and Nancy Roscoe bought Tassajara. A month later the Roscoes dropped out and the Becks bought them out. Interview with Bob Beck with former wife Anna and son Adam contributing and a link from there to an interview with Anna with Nancy Roscoe contributing.
Early sixties Grahame and Pauline Petchey, Phillip Wilson, and Richard and Virginia Baker separately report camping out in the woods near Tassajara and visiting it. Occasionally Tassajara is suggested as a good spot of the Zen Center to have a monastery. Margot Doss tells Suzuki he should get it for a monastery. Fred Roscoe suggests that to Richard Baker. Baker takes Suzuki there in the spring of 1966. Ed Brown works there in the kitchen for the 1966 guest season. In the fall Baker arranges a ZC Board approved purchase of the Horse Pasture. In October a large entourage of people from or friends of the Zen Center visit the Horse Pasture and Tassajara. Zen Center embarks on a fundraising drive for a December first payment for the Horse Pasture then Baker and the Becks with Suzuki and board approval agree to transfer that money to a down payment on Tassajara.
January 1967 - SFZC purchase of Tassajara formally filed.
July 4, 1967 - Zen Mountain Center, Zenhinji formally opened. First practice period begins - divided into two periods of a month. Some came for all, some for both.
Further dates for the SFZC at Tassajara to come. - DC
5-22-18 - From A Brief History of Tassajara by Marilyn McDonald (Cuke Press 2018)
Marilyn used 1539 feet as the altitude of Tassajara surely because that's the number on the geological survey marker embedded in sandstone at the steps to the old hotel. On January 19, 1981, the US Geological Survey entered 1637 feet as the official altitude in the Geographic Names Information System.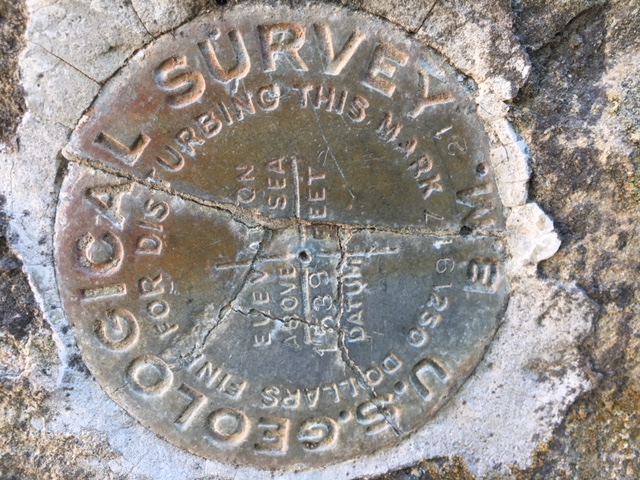 thanks Carolyn Cavanaugh, director ZMC, for sending us this photo
---
---