Jana Drakka's cuke page
---
1-03-09 - Happy New Year to Jana Drakka. Check out this latest article on the work she does in the Tenderloin of SF from the San Francisco Street Sheet.
---

3-08-08 -
a message from Jana Drakka:
Dear Friends, Iím writing to share some exciting news. Iím moving my homeless ministry from San Francisco Zen Center out into the Tenderloin. Here is my new business card with contact numbers. Please visit my web-site at www.janadrakka.com
I now take care of the Faithful Fools Tenderloin Street Zendo. Please come and sit with me there Ė everyone is welcome. Letís stay in touch, Jana
filed in CukeSanghaNews
---
Jana Drakka's
June 9th, 2007 Workshop
and More on her
Work with the Homeless
5-31-07 - In my 4-16-07 report of the Greens Restaurant annual benefit (for SFZC) and live auction, I left out the most impressive part of the event when at the end of the auction, driven by the encouragement of the dynamic auctioneer, people pledged considerable support (starting with $1000, ending with 50) for Jana Drakka's work with the homeless. I didn't mention it because I wanted to do a focused presentation on Jana and her worthy program. - DC
---
The Whole Moon In A Puddle - A Training in Total Acceptance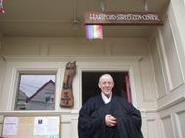 This workshop is useful to those involved in making changes in themselves and facilitating change in others.

We will be working with a combination of mindfulness meditation and Harm Reduction training. Harm Reduction is a training in complete acceptance of wherever one is in life. It is designed to help facilitate change in self and others and has been successfully used nationwide with traditionally ' hard to work with' populations in therapy/addiction counseling.

Reverend Jana Drakka's work was featured in the SFChronicle (SFGate.com 1:4:07)and on ABC7news in April. She is well known for the humor and practicality of her teachings.
June 9th 1:30-4:30pm.
Fee: $45; $40 for SFZC members; $35 low income.
Call 415 863 3136 to register.
Pre-registration required.
No-one turned away due to lack of funds. Everyone welcome.
Location: SF Zen Center, Page at Laguna, 94102.
email: Outreach@sfzc.org
---
Learn more about Harm Reduction here - Harm Reduction Coalition.
And here - Drug Policy Alliance.
And here - Wikipedia.
And here - Habit Smart's Harm Reduction Information Center.
---
More on the work of Jana Drakka
---
from SFZC Sangha News - Advocacy for the Homeless.

from the SFChron
Priest brings Zen to S.F.'s neediest souls
Buddhist teaches meditation, holds memorials for homeless
Justin Berton, Chronicle Staff Writer
Wednesday, January 3, 2007
See the accompanying video
On KGO
Woman Offers Meditation To The Homeless
First Project Of Its Kind In Nation
By Carolyn Tyler
See the accompanying video aired on ABC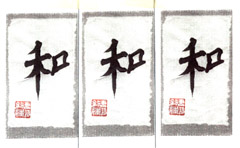 Calligraphy Exhibition by Jana Drakka
---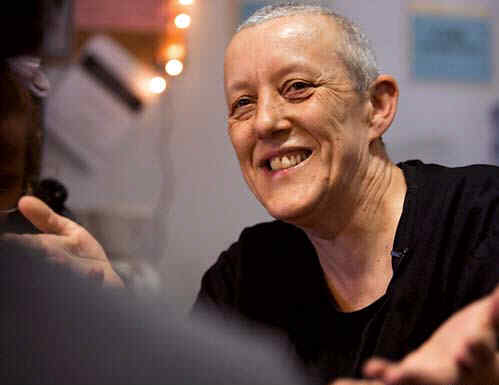 ---