---
4-16-07 - A Fairly Gossipy Account of Two Events from Yesterday (tinkered with on 4-17-07)
Went with Trinkita to the big city. What a busy couple of days it's been. What gadabouts we are. What sacrifice for social/professional mingling. Spent half our savings on gas to get to these places, bridge toll, and parking at the Civic Center garage. Almost time to knock over another convenience store.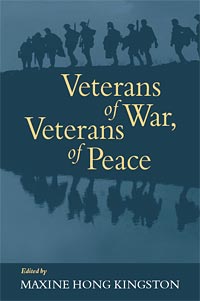 First to the book award ceremony given by the Northern California Book Reviewers at the SF Public Library mentioned yesterday and was pleased to see some old friends and meet some new folks. It was neat to see three books that had been featured on cuke.com in the running for awards - and surely because of their exposure herein.
Arnie Kotler's (that's 3 days in a row he's mentioned here - pay up, Arnie) Koa Books and Maxine Hong Kingston receive a "Special Recognition in Publishing" Award for Veterans of War, Veterans of Peace.
Jane Hirshfield's After was nominated for best poetry. I guess they figured she'd won enough awards.
Flowers of the Moment by Ko Un, co-translated by Gary Gach tied with another Ko Un book for best translation.
A special treat for me was that Michael Pollan received the award for best non fiction written in Northern CA last year - The Omnivore's Dilemma. He also wrote the terrific Botany of Desire. Here's his web site. I was delighted to meet him afterwards, told him about, and today sent him, the link to the accidental hymenoptera genocide article Are mobile phones wiping out our bees? Also invited him to see Green Gulch Farm. He said that Lee Swenson had already invited him. Turning around, there was Lee with whom I'd been the day before at Wendy Johnson's in Muir Beach with David Harris, Virginia Baker, and some other friends of Arnie Kotler's to discuss the future of Koa Books.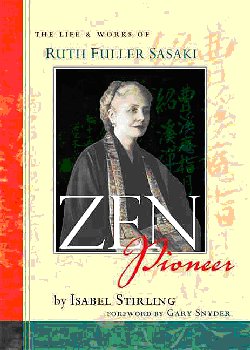 Talked with Jack Shoemaker who published Zen Pioneer: The Life & Works of Ruth Fuller Sasaki by Isabel Stirling (which I'm reading to Ananda Dalenberg these days, in fact, that day - between events). Jack's been into publishing a long time. See Shoemaker & Hoard. A while back he had North Point Press, then Counterpoint Press. Has and is publishing Gary Snyder, Red Pine, and many more old friends and great writers. Google him.

Met esteemed publisher Andrew Hoyem who had received a lifetime achievement award for the art of his book design (but he's not retired). Here's his Arion Press link. In his acceptance talk, he'd mentioned Shunryu Suzuki and later Jakusho Kwong student, Zen priest, and early Beat publisher Dave Haselwood.



Then it was to the SFZC's Greens Restaurant for the annual benefit (for SFZC) and live auction. It was also an evening to honor two great Zen cooks and old buddies with whom I'd worked and practiced (though not made perfect).

Edward Espe Brown, of course, started off book career with the wildly popular Tassajara Bread Book. He was the head cook at the first practice period at Tassajara and I ran the dinning room and set up much of the purchasing. That was just the beginning for us. We were ordained together by Suzuki Roshi.

Deborah Madison. was the first head chef at Greens when I was the host. She's written many well-received vegetarian cook books since. It was also good to see Pat McFarland, Deborah's artist husband who also goes way back. I've got a painting of his on my wall. I've got an old interview (93) with them both from a year spent in Santa Fe where they live. It should be edited and put up on cuke in no time. What an alluring photo of Deborah.
More on this event from the SFZC web site:

The event will begin with wine and hors d'oeuvres prepared by Greens Executive Chef, Annie Somerville. The evening includes a musical performance by members of Tarentel; the award program hosted by actor Peter Coyote; and an auction with auctioneer Anthony Pagán, with items such as nights on the town, Buddhist art, travel and much more. Coffee and a sampling of desserts will conclude the evening.
Peter was just right as an MC. He's getting ordained next week by Lewis Richmond who was also ordained by Suzuki with Edward and me.
Anthony Pagan did a bang-up pro job as auctioneer and we talked about getting a head start on the event next year - way in advance - to get more high ticket items to keep at least one of the two wheels of the temple turning (dharmic and economic).
Ate sumptuous little comestibles constantly passed around, drank too much non-alcoholic wine (it's so sweet). Saw a zillion old friends at Greens and some ZC officers and board members whom lobbied shamelessly for support for my passions - Shunryu Suzuki and friends oral, written history work - the supposed purpose of this site, and ZC alumni tracking and visiting and an office for such (see Zen Aluminati - needs an update - a lot happening at the ZC with this). And made a new friend who I've long admired but never really knew except to say hello. We've got a lot of friends in common - publisher Malcolm Margolin of Heyday Books. I think of him as concentrating on books about California and Indians.
Gotta run. Trinkita says it's time for dinner and I've spent long enough at this computer. Lot of talk about books today. I think about writing and publishing - got two old books coming back out this year (see home page) but what I've worked on in the last few years has not inspired anyone to promote or publish. Oh well - book biz is way down, havin' trouble. I might have to put here for downloading or print-on-demand - those are growing fields. It doesn't matter. I like putting things online. It'll last awhile - till the plug is pulled. And then what was thought to be eternal will be seen to be equal to the poems written by the Chinese monk on leaves and set in the stream. Basically, nothing is even happening to begin with as far as I'm concerned. Or, as Kurt Vonnegut said (I got this off his putdownistic Fox obit linked from today's crooksandliars.com)
American male writers have done their best work by the time they're fifty-five and then it's pretty junky after that.
That's okay with me. It's been a good ride so far and wherever this formless vehicle leads is just fine with me. Right now I see all the cuke work to get to that pertains just to the people mentioned above. The memories to be forgotten and the light that shines through all that. Anyway, I'm having fun.
Take care all. - DC
See something left out of this report - on Jana Drakka's work with the homeless.
---