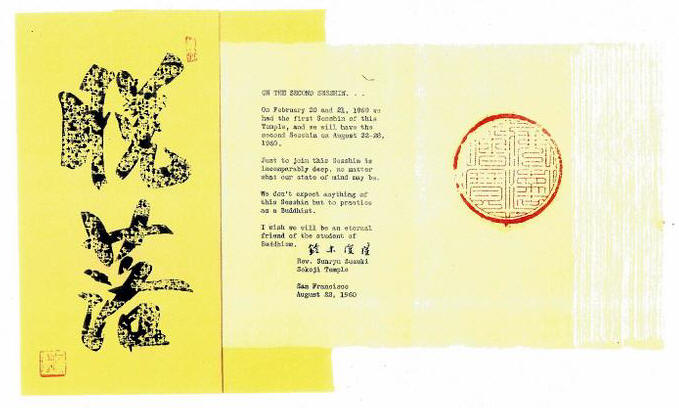 On the Second Sesshin
On February 20 and 21, 1960, we had the first sesshin of this temple, and we will have the second sesshin on August 22 - 28,1960.
Just to join this sesshin is incomparably deep, no matter what your state of mind may be.
We don't expect anything of this sesshin but to practice as a Buddhist.
I wish we will be an eternal friend of the student of Buddhism.
(kanji - Suzuki Shunryu)
Rev. Shunryu Suzuki
Sokoji Temple
San Francisco
August 22, 1960
---
This certificate came from Betty Warren photos and memorabilia.
Large kanji on left of certificate are datsu-raku, dropping off, from Dogen's Genjo Koan - shinjin datsuraku - dropping off body-mind. Below are the kanji from a Genjo Koan Study done at Tassajara in 1975 when I was the director. Typed by Trudy Hartman from my notes. Not sure who did the kanji. Not me cause my penmanship in any script is poor. Ryogen Yoshimura did that for me for other studies but was he still around in 75? I thoughtlessly didn't give that person or Trudy credit in the study - or myself. - dc