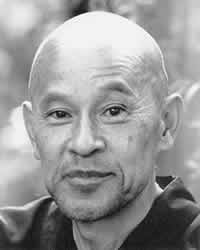 cuke.com - an archival site on the life and world of Shunryu Suzuki and those who knew him and anything else DC feels like - originally a site for Crooked Cucumber: the Life and Zen Teaching of Shunryu Suzuki - not crookedcuke.com
| home| what was new | table of contents | Shunryu Suzuki Index | donate | DC Writings |

People Index or link pages - for more people, see Interviews, Brief Memories, Suzuki Stories, Links, Comments, CukeSanghaNews, and a few other places for some stragglers.
Mike Dixon

Click here for Shunryu Suzuki Photo Archive images and links to all cuke.com pages on .
MEMORIES OF SUZUKI Roshi FROM WIND BELL AND DC FILES - #10 - Mike Dixon
Page for Trudy Dixon - couple of photos there with Mike next to Trudy.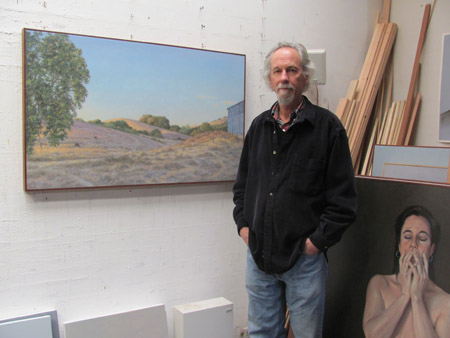 Mike's pen name as an artist is Willard Dixon - that's his art web site.
from Zen Mind, Beginner's Mind at Forty - annotated version
Thanks to Mike Dixon for going over all this with me recently and also for drawing the fly on page 69 of ZMBM. He drew a new one for the new edition in 2000 because the original art was lost I guess. Mike did the cloud paintings at Greens Restaurant.

+ get a photo of

+ include a link to Dixon's portrait of DC

He's not only a wonderful artist but gifted musician as well. He's in a jazz group that sounds as good as it gets to me. - dc

Mike with Shunryu Suzuki

Mike Dixon's portrait of Shunryu Suzuki which hangs SFZC City Center ground floor at central stairwell

Mike has done a series of portraits one can see at his Willard Dixon website

The one below is of yours truly, DC.

This is the 2nd picture of me by Mike. The other he did at dinner his wife Pam and Elin and me at our home in Gertle Park in 1994 or so. It was a quick sketch while we were talking of me on a bicycle. I've still got it in my archives but it got water damage and partially eaten by rats where I lived in John Tarrant's barn. I bought a painting of Mike's in a fundraiser for Tassajara. It was of a tidepool beach, ocean and clouds, with a painter's isle with painting in the scene. Ten years later when I moved in with Liz Tuomi in Bolinas I realized that it was a painting of the beach down below her house. When I moved out I left it with her. She would frequently mention to me when I visited that I should take it and I'd always say it should stay here with you. She died six years ago and it's still on the way there in the studio of the house where we lived and where her son Ethan and his wife Catharine live. Wrote a song for it when it hung in my room at 340 Page. St. next to the City Center called The Painting on the Wall (#327 on the list of all songs with links to audio and words). - dc
---