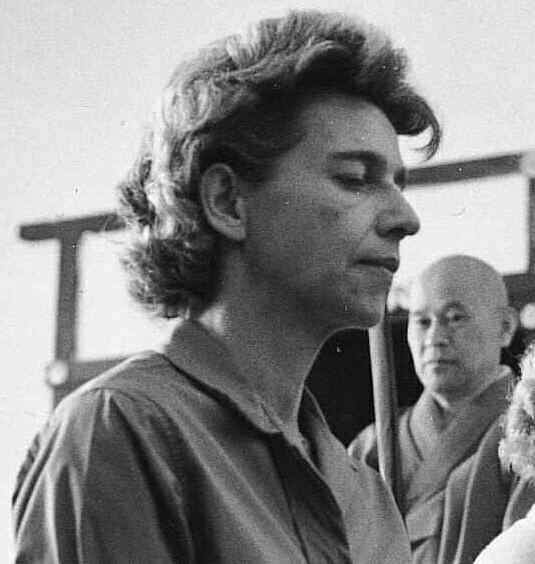 Betty Warren - Zen Buddhist, Peace and Social Activist, Vision Quester, high school science teacher, Anarchist

September 17,1916 - July 30, 2006
---
Betty Warren's cuke.com interview
5-30-14 - I'm so happy to present
Catherine E. "Betty" Warren - Nitsa Marandonatou's wonderful Book on Betty Warren with many photos - feel free to download. It is not available via regular sources. Each copy cost Nitsa over $125. - thanks to Peter Ford for making it websize [The person identified as Paul Anderson in a photo is Paul Alexander]
Nitsa Marandonatou's nature photography website
Entry on Betty in Zen Aluminati Who page
Betty's Instructions on How and When to Listen to Music
Notes by Barbara Wenger on Interview with Betty Warren and Della Goertz
Marilyn Riley article on vision quest with Betty Warren
Betty Warren vision quest letters
A College Activist Comes Home - by Betty Warren
Betty's Buddhist name - Kashu Hozen - When Betty died, I asked Marilyn Hendee, her best friend and partner in Wilderness Transitions (see Betty Warren dies), who looked after her up to the end and who was going through Betty's possessions, if she'd come across a rakusu, the bib-like garment of ordination, which would have her Buddhist name on the back. Blanche Hartman at the SFZC also wanted it so that the ZC could have her Buddhist name for ceremonies for her and to put on alters for a time. Marilyn said there was no rakusu. I said that Betty should at least have one of the old ribbon-like rakusus given to Suzuki's first lay ordination group in '62. Marilyn said Betty didn't have that either. She said she had been with Betty at some ZC ceremony once and asked Betty why she wasn't wearing one of those bibs like the other senior students and that Betty said that she'd never been ordained [wrong -see below]. Marilyn can't remember Betty's explanation but she said it was something like because Betty didn't want to be into the organized part of any religion, because she didn't want to wear the trappings of religion but rather live the teaching, not draw attention to her involvement in Zen but be it. That sort of thing. She sat zazen up to almost the end but she was always an anarchist.
Nevertheless, Betty had told Marilyn that she had a Buddhist name and that it meant "light coming through the clouds." I said that was strange because, as far as I knew, one only got a Buddhist name when ordained, at least in the ZC. At the memorial service for Betty, Bill Kwong used the Buddhist name Kashu Hozen for her, saying that it meant "light breaking through the clouds." (I need to ask somebody about what kanji they they think that would be. Seems to me maybe that's part of the translation) After the ceremony I asked Bill about it and he said that it was true she hadn't been ordained but that she had told him that was her Buddhist name. Shunryu Suzuki was quite flexible and would say that one needn't follow the form if one followed the spirit. I can easily see him informally giving Betty that name and considering it as genuine as if it had been given in a ceremony. - DC
9-06-06 - Betty's name addenda. Nope. Above info wrong. Betty was ordained and did have one of those ribbon like rakusu's. Just got this email from Marilyn Hendee which makes that clear. So Betty just meant she didn't wear it anymore or something like that. I wonder what else was in that box. Maybe the kanji that made up Betty's name. No matter. There's a list somewhere of who received lay ordination and those ribbon-like rakusu or whatever they're called. Someday I would like to get all that type of info together but it's too much to do by myself. Below is the message from Marilyn. - DC
---
David, just had a visit from Nitsa Marcandonatou (Greek), who was supposed to be at Betty's memorial but at the last minute couldn't make it. She was down at a conference an Asilomar. She has been gathering much material about Betty over the years and was considering writing a book about Betty.
Betty left a box for Nitsa with her name on it. When she opened the box this afternoon out jumped a rectangular cotton/silk like piece of material, perhaps the beginning of what might have been made into a rakusu, and this cloth was wrapped around a purple ribbon- like rakusu and some beautiful pale beads with spots, with a few carnelian beads mixed in. I took photos of these items to show you.
I was reading about Betty in your website after Nitsa left and noticed your mention of the ribbon like rakusu. Realized that was what we were looking at. Betty wanted Nitsa to have this because Nitsa is Buddhist. So this finding may shed a bit more light on how Betty got a Buddhist name, and a ribbon like rakusu. It does have two gold embroidery symbols, one on each side.