7-30-06 - Betty Warren, one of Shunryu Suzuki's first American students, died today at 5:40 a.m. in her bed at the Redwoods, a retirement home in Mill Valley, California. Betty had been fading for some months and seemed to be a classic example of what is sometimes called dying of old age. Maybe she died of heart failure. She was 89. She would have been 90 on September 17th.

Click thumbnail to see enlarged photo of Betty sitting at Sokoji in the early sixties. Shunryu Suzuki is in the background.

There will be a memorial service for Betty at the Redwoods, 40 Camino Alto, Mill Valley, at 7p.m. on August 23rd, the day of the new moon, led by Jakusho Bill Kwong. She will be cremated on August 9th, during the full moon, a date set by Kwong.

8-12-06 - A souvenir from the first sesshin put on a Betty's Photos and Memorabilia page.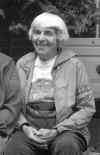 8-7-06 - A photo of Betty by Barbara Wenger from August of 1992, taken in the courtyard of the SFZC's Page Street building. Thanks, Barbara.
Click thumbnail to enlarge.
8-05-06 - Betty Warren's Prayer
8-2-06 - I've got more on Betty Warren to put up but won't have time till Friday. I want to do an OCR scan of an article and I used to do that all the time but don't find OCR right now in any program I've got. Want to put up an article she wrote in the late nineties on how she became an activist and other stuff. Also, looking for her Buddhist name which had something about sun rays shinning through clouds in it.
Betty met Shunryu Suzuki the first week he was in America. See her cuke.com interview. In 1970 Betty joined Marilyn (Riley) Hendee on a vision quest in the southern California dessert. She kept doing them. She and Marilyn formed a non profit educational organization called Wilderness Transitions. When she stopped doing these vision quests at the age of 83 she had done sixty of them.
A number of people visited Betty at the Redwoods. I'd been keeping up with her for years. She told me recently that, if anything, there were too many people visiting her. She said that hospice was coming by every day. I asked her why and she said it was because she was dying.
It really went quickly. Not her mind but her body and her sight and hearing. It wasn't that long ago, maybe half a year ago, that she told my son Clay and me that she was having the best meditation of her life. But she was also getting weaker. Her heart, she said was getting weaker. She was sad she had to stop going to the Friday afternoon demonstration against the invasion of Iraq that folks at the redwoods have been doing since the war began.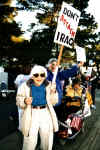 Click thumbnail to see enlarged photo of Betty demonstrating in recent years.
Then a couple of months ago she said she couldn't do anything anymore, couldn't read or even listen to music, or even meditate. I said she had that in her bones and she agreed. Her mind seemed fine but she was getting blinder and deafer and it was getting hard for her to recognize people. About a month ago she was so disoriented it took her almost all day to get dressed. I contacted Marilyn (Riley) Hendee, the closest person to her, who was out of town and talked to folks at the desk of the Redwoods about it. The time I was there before that she'd taken the wrong walker which I returned to the rightful owner and got hers back to her.
The last I saw her was a few weeks ago on the way to Tassajara with Clay. We sat with her and her friend Kay Watanabe who lived just down the hall from her and who ate dinner with her every night. Betty was still going to meals but she was in a wheel chair. She'd been moved to a new room in the skilled nursing section. She barely recognized me. I had to get up close and say my name loudly. It had only been a few months before that we were sitting in her room talking fairly normally, her saying that she didn't need to go anywhere, that she had everything in the whole universe right there. She loved her room where she'd lived for some years ever since she'd moved from the home in Sausalito where she lived for many decades. And she loved the view she had of wetlands and trees. There was a single white crane standing by the water below. Written quickly by DC
For more on Betty and some of the other aging students of Shunryu Suzuki see Zen Aluminati.