Shunryu Suzuki and the East Coast
---
When Shunryu Suzuki and Richard Baker were boarding an airplane for the East Coast, Baker told him the seats in back are the most dangerous and suggested they take seats up front which are safer and have a lower death rate in accidents. Suzuki then said they should sit as far back as they can to avoid being responsible for another's misfortune. Baker awoke in a hotel room in New York City to find Suzuki reading in the bathroom. He said he didn't want to disturb Baker by turning a light on. Baker noticed on a trip that like a spy, Suzuki left a room without any trace that he'd been there. [Though surely he didn't make the bed.]
DC on Suzuki and ZC East Coast ties - an introduction to this page
***
Trips to the East Coast by Shunryu Suzuki and Richard Baker
details in Wind Bell excerpts - East Coast
In 1959 or 60 - Elsie and John Mitchell visit Suzuki at Sokoji and he learns about the Cambridge Buddhist Society
January 30, 1962 - Mitchells visit Suzuki and Sokoji again.
September 21 - 28, 1964 - Suzuki visits Cambridge, Boston, and Cape Cod. Visits with the. Mitchells.
April 1965 - Makes another spring visit to New England to meet with Elsie Mitchell and Dorothy Schalk of Northampton, Massachusetts who plans to create a Zen retreat in nearby Vermont.
January 18, 1967 - Richard Baker returns from a month on the East Coast.
February 19, 1967 - Suzuki and Baker fly to the East Coast and visit with many groups and individuals.
Fall, 1968 - Goes East with Richard Baker to Chester Carlson's funeral in Rochester.
July, 1971 - Marjorie Bragdon's funeral in Vermont
---
Wind Bell excerpts related to the East Coast
Elsie Mitchell and the Cambridge Buddhist Society - including a link to letters and cards from Suzuki to Elsie
Northampton (Massachusetts) ZC papers including note from Ruth Fuller Sasaki - It's founded by Dorothy Schalk (not Shalk) Helen Walker signs a letter as secretary. Here's a draft of an apologetic letter from Shunryu Suzuki to Helen Walker - transcribed here.  A revealing letter from 1966.
Dorothy Schalk letter to Suzuki 1
Dorothy Schalk letter to Suzuki 2
Suzuki letter to Mrs. Carlson (Dorris Helen Hudgins Carlson), widow of Chester Carlson, major donor toward purchase of Tassajara
Yvonne Rand had a lot of contact with what she called the East Coast Ladies, well-placed woman interested in Zen and zazen. Names I remember are Elsie Mitchell who founded the Cambridge Buddhist, Dorothy Schalk, Loly Rosset, Margot Wilkie, Nancy Wilson Ross, Anne Morrow Lindbergh, Millie Johnston, Marjorie Bragdon, and June McKnight.
Shunryu Suzuki Roshi - by Mary Farkas in Zen Notes, publication of the First Zen Inst. in New York City, the oldest Zen group in the country.
Mary Farkas of the First Zen Institute of America in NYC
from interview with David Padwa
I met Suzuki Roshi a couple of times at Page St. The only personal meeting was when he and Richard came to my place on 86th St. in New York.

DC: This was before Page Street, 66 or 67 when we were fundraising to buy Tassajara.

We went across the street to eat lobster. Suzuki Roshi returned the menu to Richard and said, "Lobster." The lady came out with a bib and a whole red lobster. He'd expected lobster sashimi. It was a source of merriment, surprise to him. Here was the red monster. It was funn

I had recently sold a company to Xerox and was also going to Millbrook. They had a good library.

I told Dick and Suzuki Roshi I can't help you but Carlson can.
and in another exchange:
richard and i had real-estate karma. i introduced him to chester carlson (inventor of xerography) who funded tassajara. years later i gifted the santa fe dharma center to him.
And Padwa donated toward the purchase of Tassajara as well. - dc
David Steindl-Rast called Brother David, a Benedictine monk.
Joanne Kyger in her cuke interview recalls Suzuki in NYC -
So when he was on a fund raising campaign with Suzuki in NYC to raise money for land for the Tassajara Zen Center they came to lunch. We were living in a loft in what is now the SoHo. I remember how charming Suzuki Roshi was. Robert Duncan was there, having done a reading at the Guggenheim. I remember Suzuki sitting at the table and all of a sudden he put his napkin on top of his head and sat there with it. It was such a tension breaker. We were wondering how to act around this teacher. So we all put our napkins on top of our heads.

---
***
Trudy Dixon and I made many, many hand-written notes to Dick Baker's contacts on the East Coast requesting financial donations [toward the purchase of Tassajara]. They were very productive. - Ardis Jackson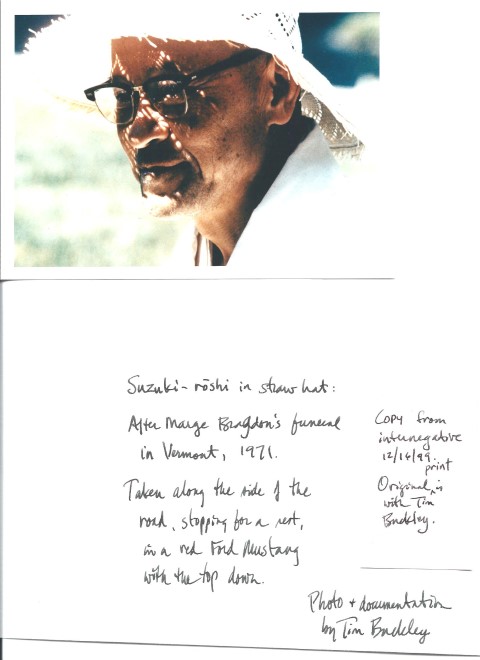 Of course there's much more to say on this topi. Will add stuff here as I run into it or it occurs - or will put to do so on a list and might not ever get to it. - dc
---
shunryusuzuki.com
- all the transcripts, audio, video, photo, letters, calligraphy

zmbm.net
- for Zen Mind, Beginner's Mind

cukenew.blogspot.com
-
cuke.com
's What's New daily posts except Sunday

facebook.com/CukeArchives
- Zen posts from cuke What's New blog (above)
YouTube Cuke Video
- all the video in whole and short parts
cuke-annex.com
- for DC nonzense sites & links including music
Cafe Press Cuke Basket
- tee shirts and stuff

contact DC
"We're all bozos on this bus." - Firesign Theater
Creative Commons copyright - the one that lets anyone use anything as long as it's not for profit, and in that case just ask.