Seeking reading on a word below
Couldn't find any board notes from September 1966 till December 1968. - dc
1968
12-19
68-12-19 - They're discussing the future of the building - none of it pans out. Before the coming year is up they'll be at Page St. and the Japanese American congregation will later move to a new building. Talk of developing a school. Comments on this and more by Suzuki. John Sunier Tassajara movie mentioned. Sent him a friend request on Facebook. Got no answer.
1969
1-25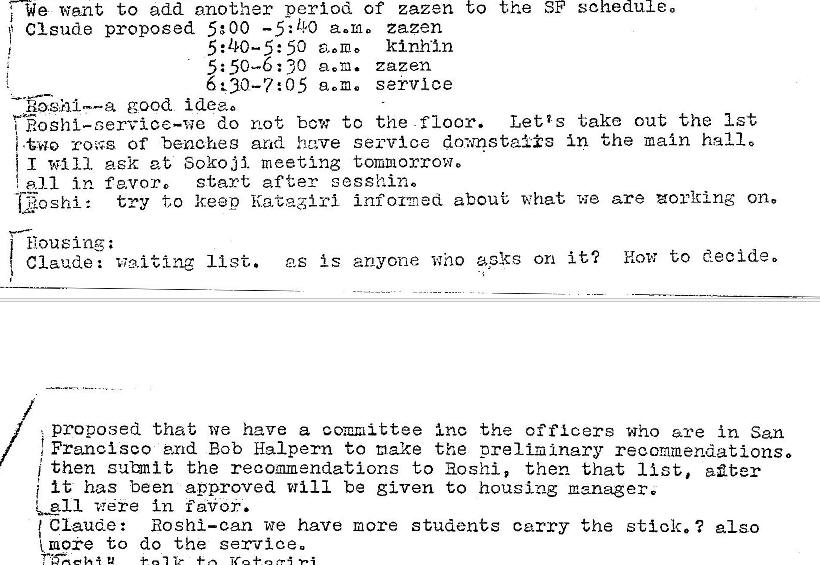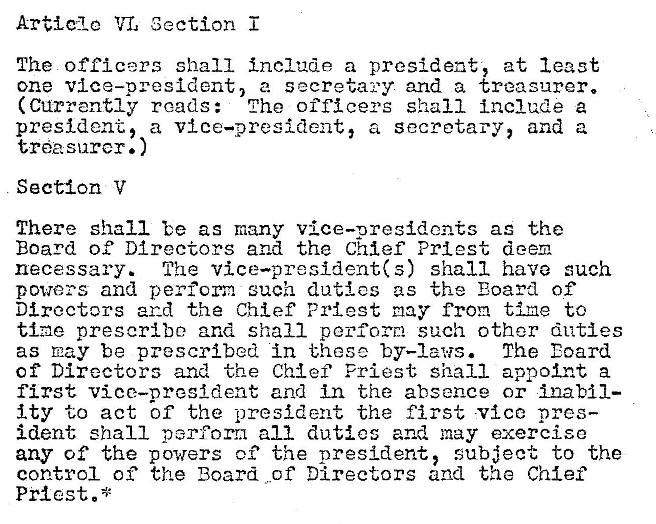 3-31
69-03-31 - Talk about Abbot Shunryu Suzuki signing Board resolutions or not and talk about Jean Ross being shuso soon, whether to leave Sokoji or not, Richard Baker in Japan with Suzuki comments.
Long discussion about whether Suzuki should sign off on board notes.

Discussion of plans for remodeling of Sokoji which have been dropped and finding new building. Building committee has not yet met. Suzuki presents some ideas of Japanese members.
Suzuki wants Jean Ross to be fall shuso. [There was no shuso the prior spring because he was waiting for her]


Talk about benefit concerts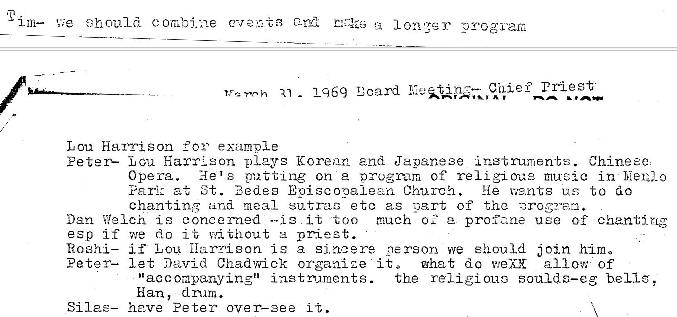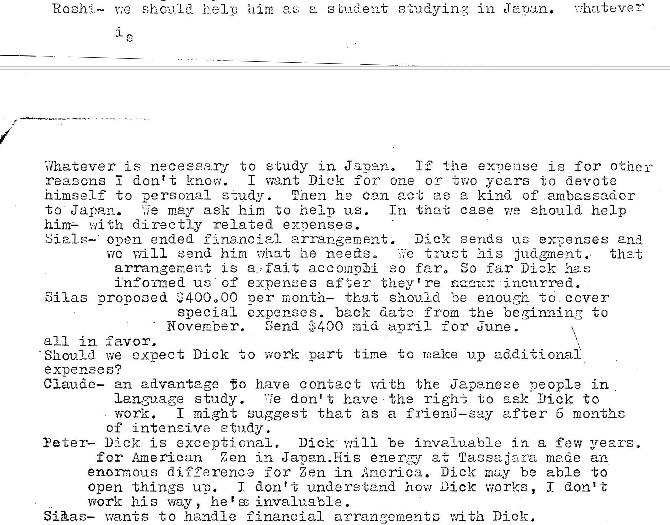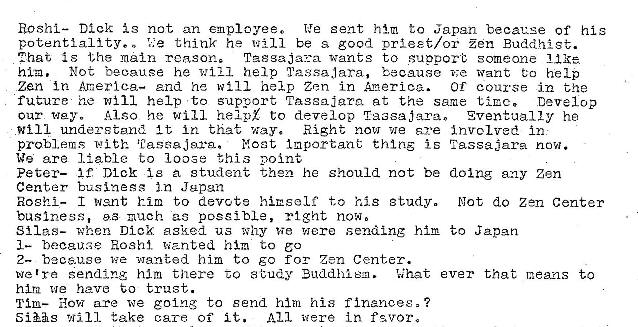 5-7
69-05-07 - Lots of interesting discussion. Suzuki comes in toward the end.

Talk about priest and lay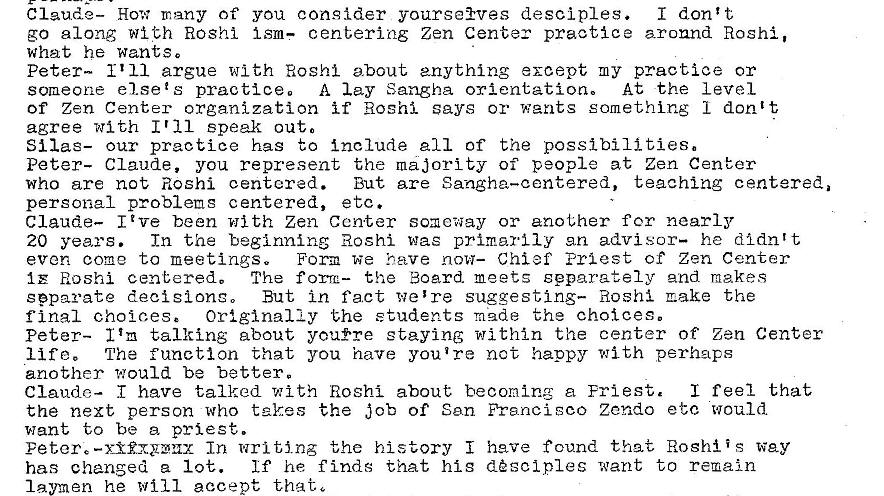 2pm - Suzuki present

Talk about new students, Yoshimura, instruction

69-05-07 - Resolutions - one resolution that didn't happen was to buy a Volkswagen Bus for Tassajara. What were they thinking of? The road is too steep and grueling for a VW bus repeated use.
5-21
69-05-21 - Talk about housing which will change in half a year when they move to Page Street.
Listed as novice priests: Mel Weitsman, Dick Baker, Phillip Wilson, Jean Ross, Claude Dalenberg - in no particular order. Grahame Petchey not included because he wasn't part of the scene anymore.
7-15
Talk about Dick (Richard Baker) coming back in October for a few months and whether he should go to the East Coast to do fundraising. Mention of him doing a program at Esalen Inst.. Nobody knows quite what. Comments by Suzuki. Bylaws talk. Suzuki says he's told the Japanese congregation at Sokoji he's resigning. Discussions of moving but Claude and Silas haven't found 300 Page St. yet. Yvonne mentions using the Brooks land at Muir Beach - no connection to Green Gulch. That's where Charlotte Selver and Charles Brooks lived. [She left it to Norman Fischer when the SFZC wouldn't accept it with conditions, one being that Norman and Kathy live there.] Talk of a fund so that Suzuki can travel and study as a student. Silas read a letter from Erica Nimeh about doing that [Never heard of her]. Talk with Suzuki about tangaryo initiation. Yvonne mentions Nature Conservancy land they want caretaker for. That's where Bill Lane and __ went and how well they did impressed Huey Johnson and he's the one who suggested to George Wheelwright that he turn over Green Gulch to ZC.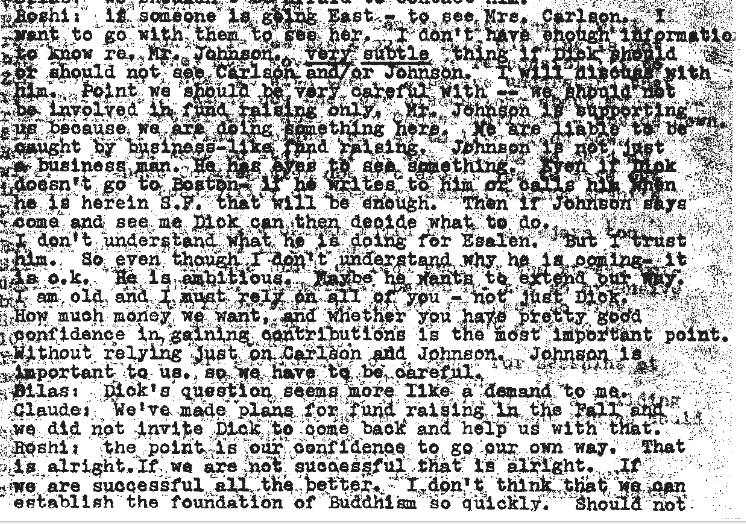 Talk about implications of Suzuki resigning. Where to go. Things to take care of.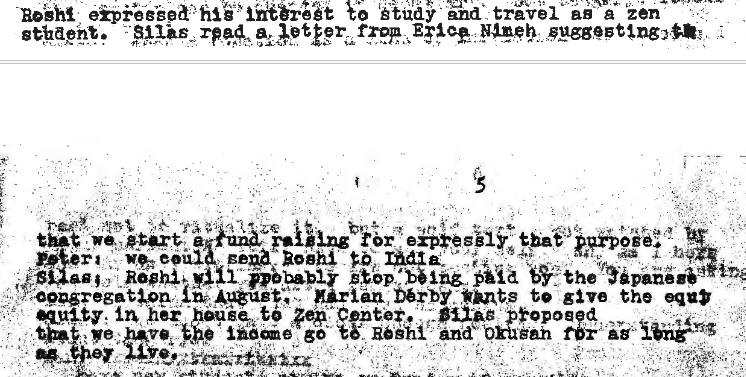 What's the word below on the 15th line down: "Perhaps we need a ???" Can you guess something?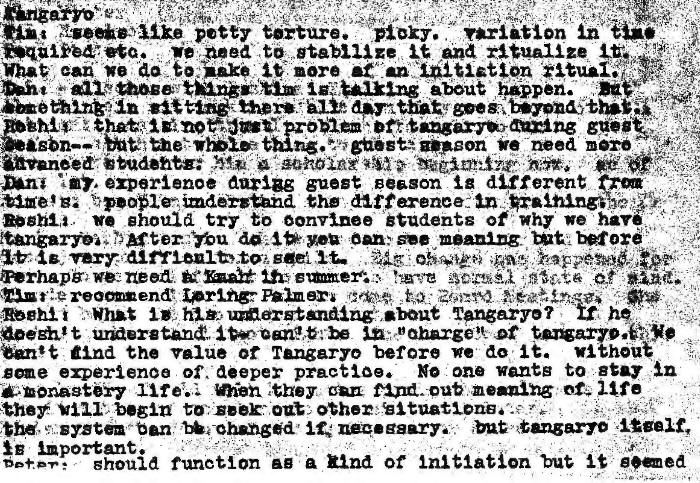 7-16
69-07-16 - next day of 15th board meeting.
Talking about students accepted for practice period.

7-24
69-07-24 - "We resolve to buy the building at 300 Page Street." Mention of Marian Derby giving her house to the ZC [It was used to help buy building].

Talk of moving from Sokoji. Building committee.


Bylaws
9-1-69
69-09-01 - Mainly talk about the new building, 300 Page St., preparing to move in there, who will do so. Anne Armstrong wants to come to Tassajara as a student last week of September. OK if she doesn't do any readings. Anne was a well-known psychic a number of students including Richard Baker saw. See Anne Armstrong cuke interview.
New building (Page St) listed as #8 for meeting items.
Budget - cost $317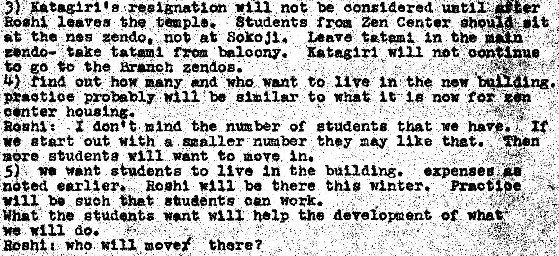 List of who's moving in or has applied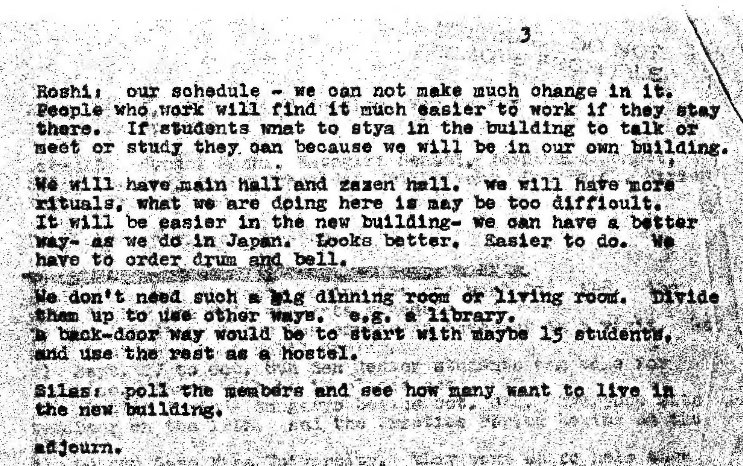 69-09-09 - and the tenth - almost nothing
9-17
69-09-17 - Report on letter from Kobun Chino to Shunryu Suzuki. Talk about member dues, supportg new priests, about the new building at Page St. where they haven't moved yet. Suzuki on sitting in the new building and Sokoji, the temple they'll be moving from. Suzuki on one day sesshin and oryoki and how many zazen periods to have in new building.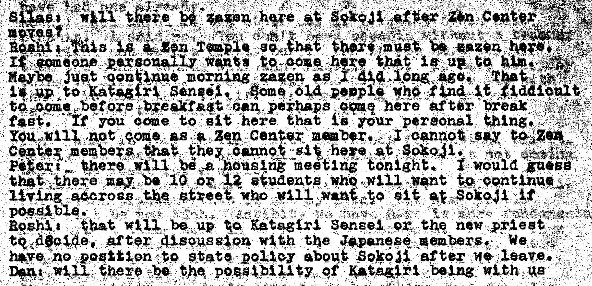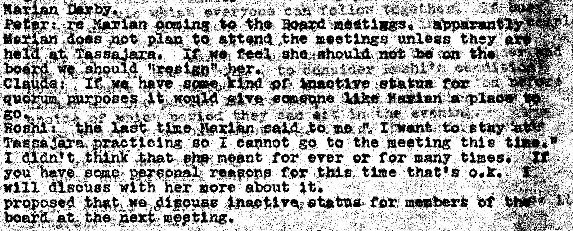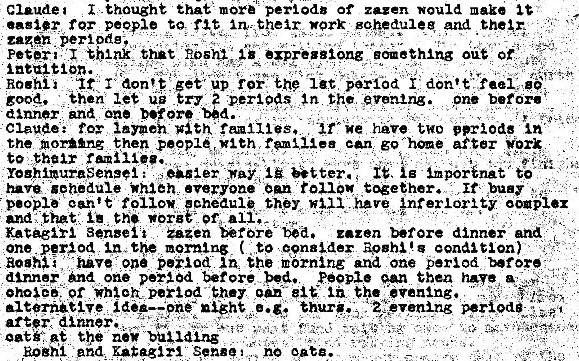 11-1 - at ZMC
69-11-01,2- Long meeting, long notes. Lots of talk about SFZC students giving talks outside, bringing in more Japanese priests, outside lecturers and teachers, inviting Katagiri to stay. Marian Derby and Dick Baker talk about publishing (Zen Mind) Beginner's Mind book showing no disagreement, getting close to decision. Baker is in the states for a brief time from Japan where he was living. ZMBM published the following spring. Here's that discussion extracted to put in ZMBM section. Much more. Lots from Baker. Suzuki here and there. Getting ready to move into the Page Street building.
Suzuki, Yoshimura, Baker etc
Requests for people from ZC to teach outside classes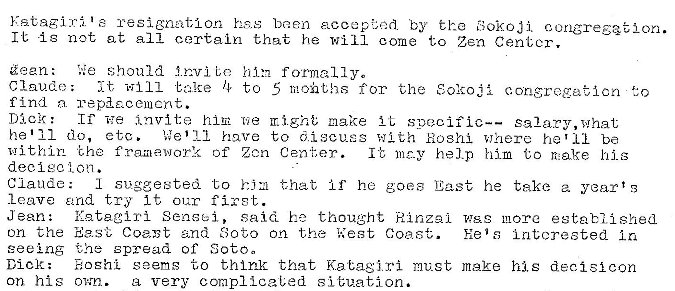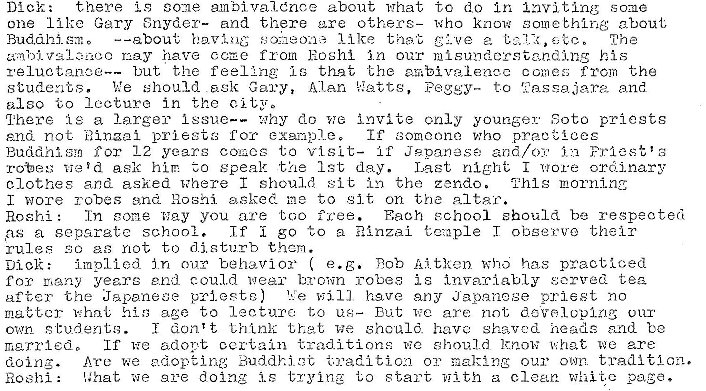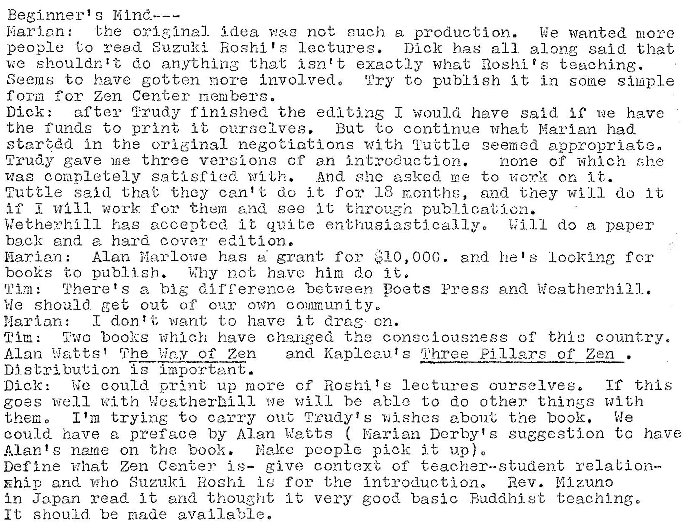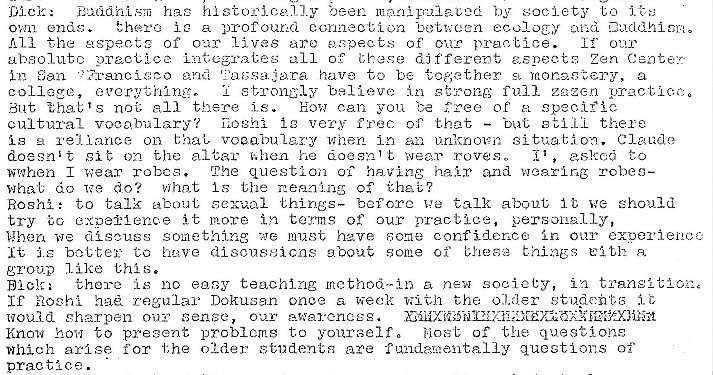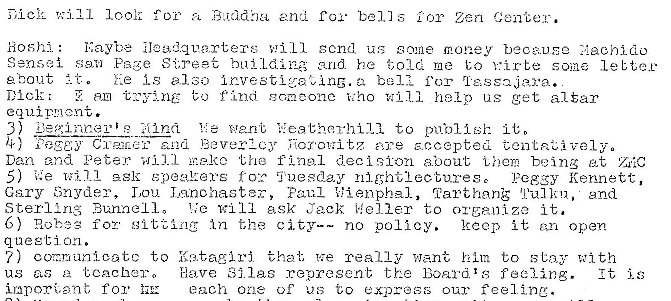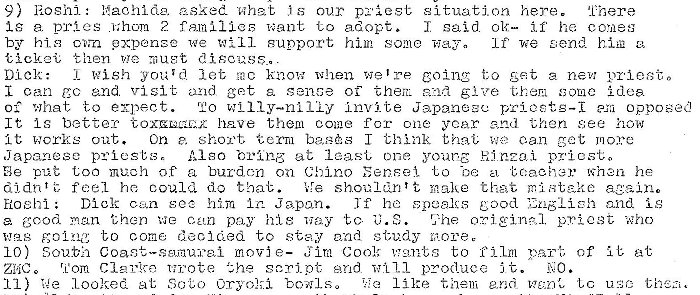 Some more material with the 69 board notes - ZC and Tass budget, Tass Guest info
---