Photos of Betty Warren's from early sixties - most with Shunryu Suzuki
---
Photos and memorabilia index
All images are thumbnails - click on to enlarge.
---

Betty Warren
---

Betty and Della Goertz
Developed July, 1980
---

R to L - Betty, Della, and Ananda Claude Dalenberg
photo by Barbara Wenger
---
L to R - Betty, Laura Kwong, Jakusho Bill Kwong, Della
Developed April, 1997
---
Betty backpacking on a vision quest
---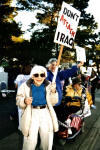 Betty demonstrating against the invasion of Iraq with her friends at the Redwoods retirement home in Mill Valley - every Friday between four and five they've done this for years and she was there from the first till she got too weak a few months before she died. She never missed. At the memorial ceremony for her at the Redwoods, a woman who volunteers there said that Betty went even when the demonstration was canceled because of a storm.
---

Don't know who this is but this photo was with Betty's old ZC photos so I include it here in case someone recognizes who it is. I suspect it might be a misplaced photo of someone who went on a vision quest with her.
---