Ananda Claude Dalenberg main page
---

Ananda Claude Dalenberg
July 2, 1927 - February 18, 2008
(photo by Diane Dalenberg)1994
click on thumbnail to enlarge
---
Ananda's Cloud-hidden Friends, Universal Life Friends, & Zen Freethinker Newsletters (1982 - 1991) now available at this page
---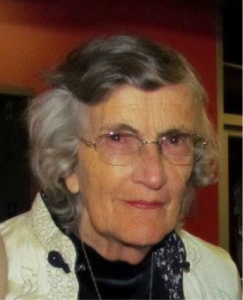 8-15-14 - The video of Vera Haile Dalenberg's Memorial service on 7/31/14 in case you were unable to join us. There is also a link to the short photo slideshow we played at the service. Both are posted on her website at verahaile.com.
---
7-15-14 - RIP Vera Haile who died on July 9th, widow of Ananda Claude Dalenberg, dear friend and woman of the good fight for the underprivileged, . Read her obituary and more at Vera Haile dot com. Condolences to her twin daughters Diane Dalenberg Schoonover and Laura Dalenberg whom she was so close to. She was also a very loyal and loving wife and partner of Ananda. - DC
7-17-14 - Vera Haile Dalenberg's memorial and light reception will be held at St. Mary's Cathedral (in St. Francis Hall) at 1111 Gough St, in San Francisco, from 5:30-7:30 pm, on Thursday, July 31st.
Flowers may be delivered to St. Mary's Cathedral, as long as the date and time of Vera's memorial are specified.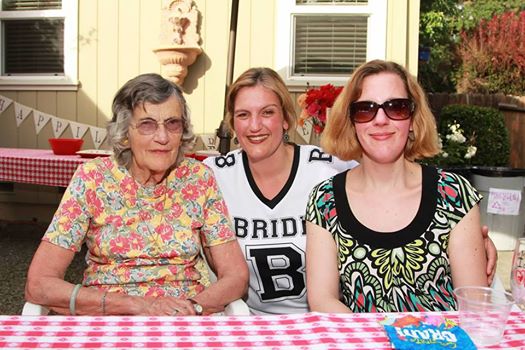 Vera with daughters Dianne and Laura
taken from Vera's FaceBook page
Last email from Vera - 5-27-14
David, I'm impressed that you are getting the Cloud Hiddens together at last. Diane and I put together all we could find, so we don't know where the missing ones might show up. I will hang onto your list, in case we uncover some more. Did you write [Claude's bother] David Dalenberg about your progress? I'm sure he would like to know. If you've been to Bali and Kyoto, where are you now? Always good to hear from you. I'm a bit slowed down by having to use oxygen both day and night now, but am still plugging away on various issues. - Vera
---
2-18-12 - Remembering Ananda Claude Dalenberg, Buddhist pioneer, humanist, our friend and dharma brother who died four years ago today,
See Sweeping Zen's memorial for Ananda today.
Diane Dalenberg poem today for her dad
James Ishmael Ford on the four year memorial day
---
cuke interview with Ananda - with a new brief history at the top (2-08)
MEMORIES OF SUZUKI Roshi FROM WIND BELL AND DC FILES - #8 - Ananda Dalenberg
Biographical Notes by Diane Dalenberg (daughter) and David Dalenberg (brother)
Ananda in the Zen Aluminati who - photos
Zen Aluminati Ananda Updates
Ananda's introducing the Pali refuges at Zen Center.
Parting with Claude Dalenberg by Gary Snyder - Paper on Issa and Snyder that includes this poem
Daihishin for Ananda from Gary Snyder - posthumous
Program for Ceremony Celebrating Ananda's Life
Adios, Ah Budos, Ananda by Dan Welch
Ananda's Wondrous Two-footed Capability - by Brit Pyland
More On Ananda from the cuke email basket including one from Philip Whalen.
5-10-08 - James Ford remembers Ananda Claude Dalenberg in his blog. I sent my regards and one tiny correction about how many people Suzuki ordained.
12-17-08 - Remembering My Friend by Ken O'Neill, Kyoshi
See photos of Ananda by his daughter Diane Dalenberg in the cuke Picasa Web Gallery. There are two albums - photos of Ananda and family through the years and photos of the reception after his funeral. Captions to come.
---
Claude's comment - on tape for 66-06-13 Suzuki lecture
---